My third Birchbox came in February and I tell ya, I almost get more excited about finding out what the box is going to look like than the products inside. I'm still enjoying being exposed to brands and products I've never heard of, but those boxes are so darn cute! Birchbox is a monthly service that sends hair, makeup, and skincare products in sample sizes for you try. Let's see what came in February's box!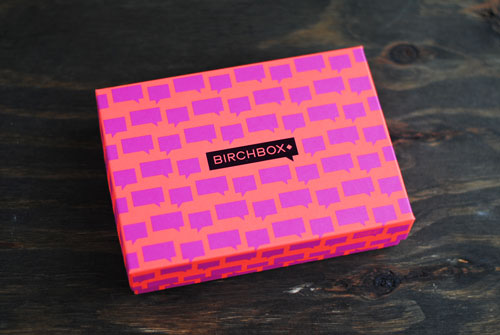 I was thrilled to get a few makeup items this time. I'm also still happy about the sample sizes. Even the tiniest sample has given me several uses, so I feel like I'm getting a good idea if I'll like the product and I'm getting my money's worth on Birchbox.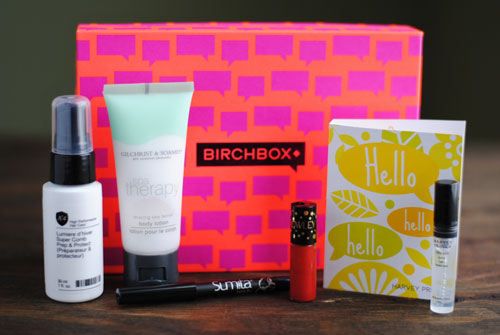 SO, WHAT'S IN THE BOX?
Number 4™ Super Comb Prep & Protect – This is a leave-in conditioner spray that's supposed to protect your hair from damage caused by using blow dryers, curlers, straighteners, etc. I'm a long time user of leave-in conditioners, so I didn't really need this and already know what I like, but might as well give it a try. I couldn't get past the smell. The smell is horrible. I don't know how this got past their testing. I have no idea how it works because all I could concentrate on was not gagging. Threw the sample in the trash and would not recommend this.
Gilchrist & Soames Spa Therapy Body Lotion – This lotion was really nice and had a pleasant smell. Not greasy at all, but I did find it a bit too thin. I lean toward thicker, butter-type lotions because my hands get so dry.
Sumita Color Contrast Eyeliner – I don't really use pencil eyeliner because I find them a bit harsh and hard to put on, but I was kind of excited about this one because it came in navy (and thankful I didn't get the lime green one!). It went on ok. I didn't have to make as much effort as with other pencils, but the navy didn't look great on me, or perhaps I need to get out of my comfort zone with makeup colors!
Cynthia Rowley Beauty Creamy Lip Stain – This stuff was interesting. It's a lip stain, so the texture was a bit watery compared to glosses that I'm used to. I liked the way it went on, but the one I received was in a gnarly orange color that looked horrible on me. I'd probably really like this in a better color, but I'm not sure it would last very long.
Harvey Prince Hello, Limited Edition – Love getting perfume samples! I've been a body spray user for years and it just doesn't last long or even compare to a really nice perfume. Hello is really strong for my taste, but I actually like the scent. I just have to be careful with how much I put on. It lasts a really long time, too, which is a huge selling point for me. I probably wouldn't buy this, but I'll use up the sample.
Not a bad Birchbox this time! Only one (and the first) item that I absolutely hated. I liked getting more makeup products, even though the colors weren't really for my skin tone or taste.
What beauty products are you loving lately?
Disclaimer: I am not affiliated with Birchbox nor was I compensated for this post. All opinions are solely my own, as always. The links in this post include a referral code where I will receive referral points towards future product purchases should you sign up for the Birchbox service.