Last month I started subscribing to Birchbox. It's a monthly service that sends hair, makeup, and skincare products in sample sizes for you try. I'd heard of Birchbox before, but was never really interested in that kind of stuff until lately. Since I'm new to this whole area I thought I'd sign up so I could try different products before committing to the full size. I signed up in late December, so I still got the December box…in early January. Let's take a look at what was inside!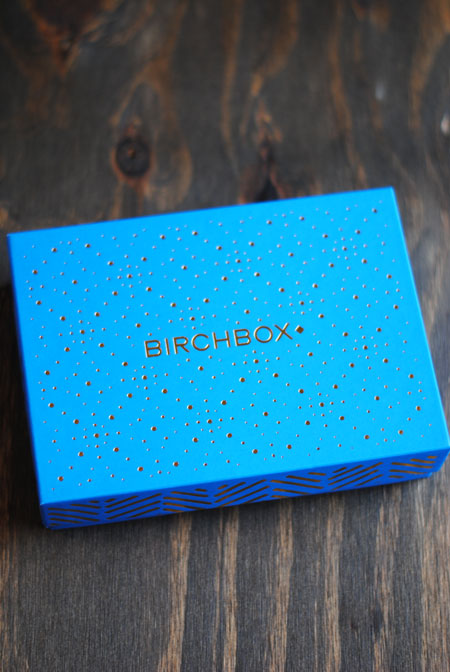 First, the boxes are really cute. I'm a container hoarder so I'm keeping them for now. Inside the box is always some sort of card with a message and on the back explains the products inside. This box also had an awesome $10 gift card to Gap as a holiday surprise…only it expired at the end of the year and I didn't get my box until January. Boo, but no biggie.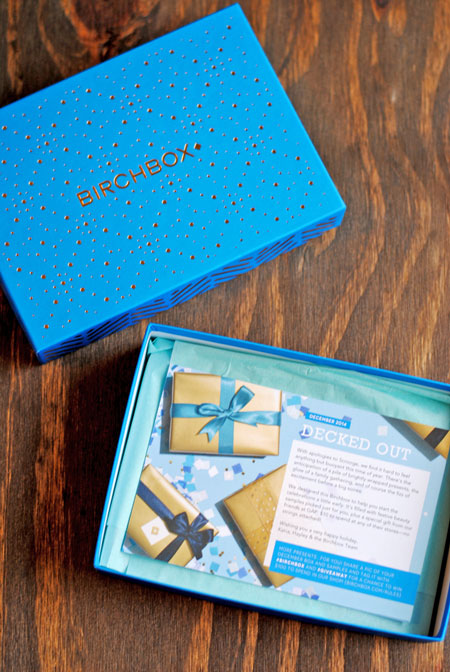 I was really happy on first look at what was inside! I've heard somewhere that Birchbox is heavier on skincare than makeup and that's fine with me. I'm incredibly new to this world of products so I love seeing what's out there. I was really pleased at the sample sizes, too.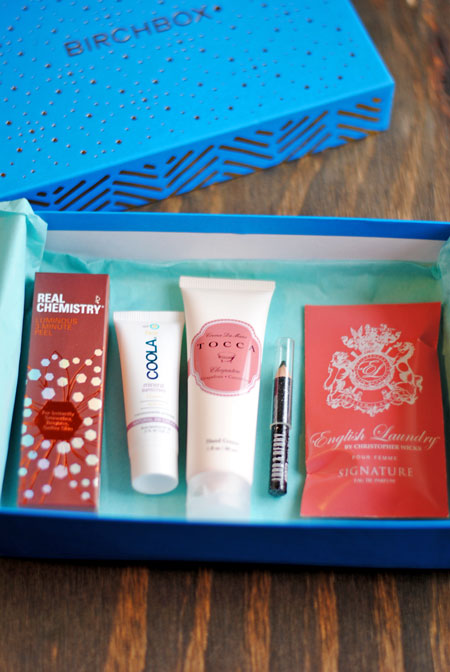 So, what's in the box?
English Laundry Signature for Her perfume – I liked this scent, but not enough to buy it. It's very floral and a touch too sweet for me. I'll still use up the sample though. I love getting perfume samples because I'm always on the lookout for new scents. (I recently discovered Calvin Klein's Euphoria and it's what I'm currently loving!)
Lord & Berry Paillettes Eye Pencil – I don't like using pencil liners, but I thought this one was fun since it was black with sparkle. It was really hard to get on my eyelid and the sparkle didn't show much. Fun to have, but I wouldn't want the full size.
COOLA Face SPF 30 Unscented Matte Tint – You wouldn't believe how many uses I've gotten out of this sample! A little goes a long way. I liked this product, but there's not really a tint to it on my face. It feels really smooth going on and I wear it under my powder, but over my moisturizer. I'm on the fence if I'm going to buy the full size. I'd like to find a similar product with more tint. Any recommendations?
Update 2/23/15 – I kept using the Coola sample (which lasted forever for such a tiny tube!), and decided I loved the product. It barely has a tint, but I love the way it feels over my moisturizer and under my powder. So much so that I when I ran out of the sample, I didn't like the way my face felt after not using it. Highly recommend this product!
Real Chemistry Luminous 3-Minute Peel – This stuff confused me at first. The instructions on the sample said to use a quarter-size amount and that ended up being too much, so I wasted a bit of it. I ended up watching a video to see how to use it. I'm on the fence about this one. I can't decide if I like it or if it's too gimmicky. It's a clear, sticky gel and you lightly dab it on your (clean) face and immediately it starts to ball up. It's kind of difficult to put it on your face because it wants to ball up so fast. It's suppose to be a mixture of the product and your dead skin. I feel like it's mostly product. I will say it leaves my skin feeling really soft. You can't use this daily because it's drying, but they do suggest it weekly.
TOCCA Crema da Mano Luxe Hand Cream – This lotion is really nice. It's thick and absorbs quickly. It leaves a silky feeling, but I think some would take that as greasy. I don't love the scent of this one. It's grapefruit and cucumber and a little strong. It reminds me of cucumber melon from Bath & Body Works. It competes with my perfume too much, otherwise it's not bad.
Even though I didn't love every single item and probably won't purchase any of them, I love the concept of Birchbox. Much easier to try samples instead of being stuck with a full size of something you don't like!
What beauty products are you loving lately?
Disclaimer: I am not affiliated with Birchbox nor was I compensated for this post. All opinions are solely my own, as always. The links in this post include a referral code where I will receive referral points towards future product purchases should you sign up for the Birchbox service.