Are you cookied out yet? Have I put you in a sugar coma? I hope you've got room for one more! These Apricot Sour Cream Tea Cookies are the last of the 2010 baking day extravaganza, and they happen to be my favorite one out of all of them. It's usually a chocolate goodie or some kind of cookie that has everything in it that makes the top of my list. These cookies just say Christmas to me with the spice of cinnamon and cloves. They are definitely a winner.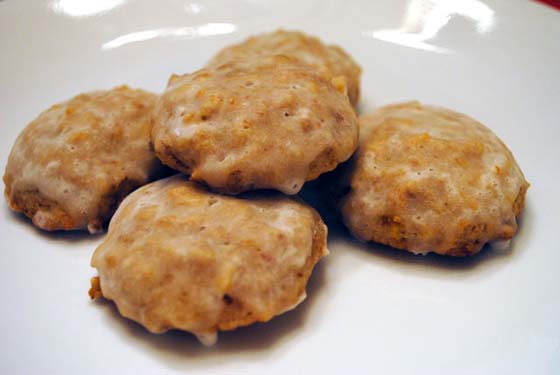 So, how's it taste?
You would never believe the base of these cookies are from a roll of refrigerated sugar cookie dough. The flavor is nothing like sugar cookies. The apricots and the apricot preserves are sweet and the sour cream adds a subtle tang. Combine all that with pecans and the sugar cookie dough and it's one perfect cookie. But wait, there's more! The cooled cookies are crunchy and not too much on the sweet side, but that's where the glaze comes in. Dip the cookies in glaze and they become soft and sweet. Easy cookies to make and such a delicious result.
Other goodies from Cookie Baking Day 2010:
Almond Macaroons
Buttery Pecan Rounds
Crunchy Muncher Cookies
Striped Icebox Cookies
Mint Chocolate Chip Cookies
Chunky Peanut, Chocolate, and Cinnamon Cookies
Chewy Chocolate Gingerbread Cookies
Cream Cheese Spritz Cookies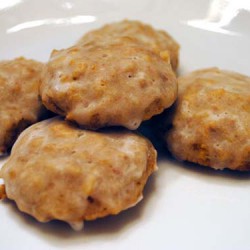 Apricot Sour Cream Tea Cookies
Ingredients:
Cookies
1 roll (16.5 oz) refrigerated sugar cookies
1 cup pecan halves
3/4 cup dried apricots
1/4 cup apricot preserves
1/4 tsp. ground cinnamon
1/4 tsp. ground cloves
1/4 cup sour cream
1/4 cup all-purpose flour
Glaze
2 cups powdered sugar
1/3 cup milk
Directions:
1. Let cookie dough stand at room temperature 10 minutes to soften. Meanwhile, heat oven to 350°F. Spray cookie sheets with no-stick cooking spray or use parchment paper.
2. In food processor, place pecans, apricots, preserves, cinnamon and cloves. Cover; process with on-and-off pulses 20 to 30 seconds or until pecans and apricots are finely chopped and mixture holds together.
3. In large bowl, mix pecan mixture and sour cream. Crumble cookie dough into pecan mixture, stir with wooden spoon until well blended. Stir in flour until well blended.
4. Drop dough by 24 heaping tablespoonfuls 2 inches apart onto cookie sheets. Bake 12 to 15 minutes or until light golden brown. Cool on cookie sheets 2 minutes; remove to cooling racks. Cool completely, about 20 minutes.
5. Place waxed paper under cooling racks. In medium bowl, stir powdered sugar and milk until smooth. Dip tops of cookies into glaze; place on racks and let stand 5 minutes. Dip cookies again; let stand 5 minutes longer or until glaze is set.