Last June (yes, shame on me for taking so long to post this!), my mom and I went to Philadelphia for a long weekend vacation. We like to travel to spots that have a lot of history and good food. It was a big plus that the National Constitution Center was having a Bruce Springsteen exhibit as my mom happens to be a huge fan. The weather was perfect the entire weekend and we had a blast. So much that we both had Philly withdrawals for days after and I was convinced I needed to move there. Here's a recap of what we ate and a few of the spots we visited. If you've never been, it's time to put Philly on your list of places to visit!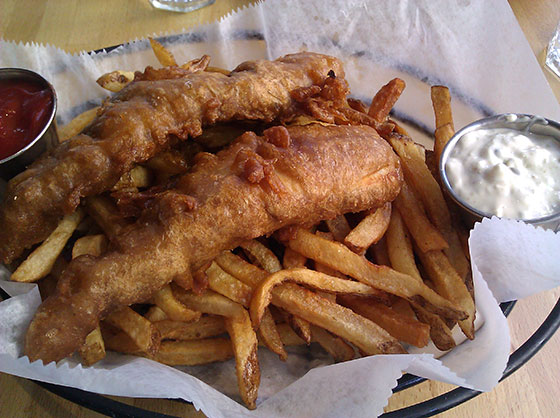 Our first place to eat was the Philadelphia Bar & Restaurant. I picked the special for the day, Fish and Chips. Boy, did I select wrong. It was pretty disgusting actually. Extremely greasy and tasteless for both the fish and the fries. I ended up scraping the batter off the fish and ate what I could. Such a bummer for our first stop to be so yucky.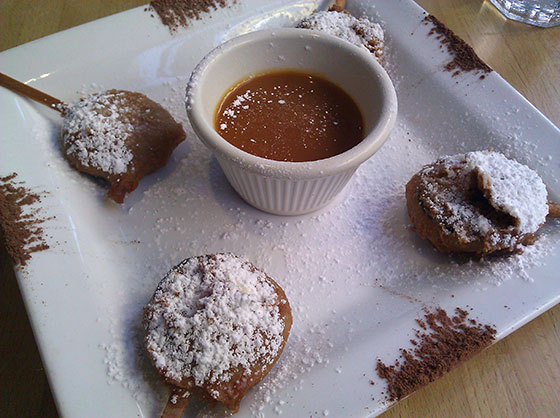 Thankfully, they also had Fried Oreos on the menu. Since I barely ate my dinner, I was so game for fried Oreos! They serve them with a caramel dipping sauce. The plate decoration was a little ridiculous with the powdered sugar and cocoa and it ended up all over my lap and purse.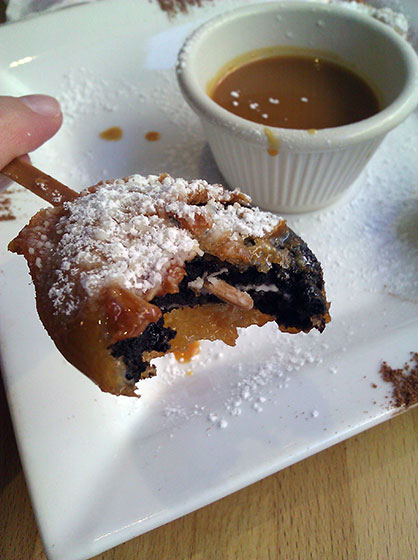 They tasted fantastic though! Warm and gooey and sweet and decadent. They may not fry fish and chips right, but they got the Oreos right!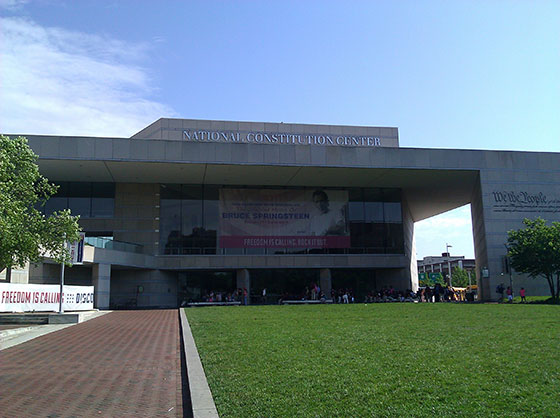 Here's a view of the National Constitution Center as we were walking up. See how gorgeous the day was!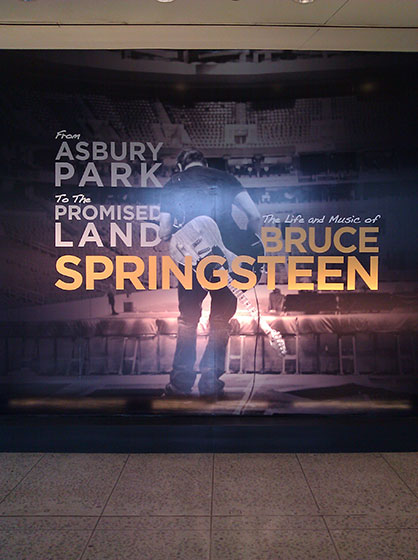 We loved the Bruce Springsteen exhibit. Very cool.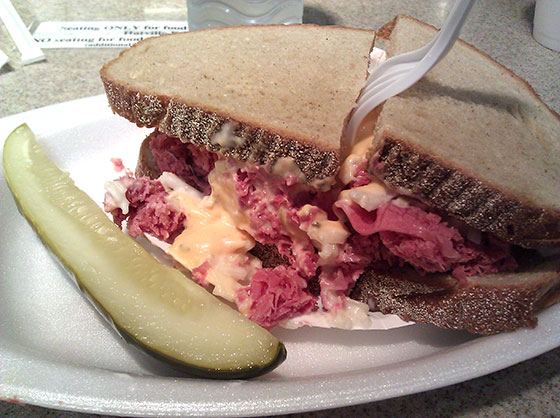 We checked out the Reading Terminal Market and I was in love! Everything you could imagine. Meats, breads, cheeses, ice cream, sandwiches, bakeries, this list goes on. I could've spent the entire trip inside there. We had lunch at the Hatville Deli. I had their Famous Corned Beef Sandwich. It was delicious. Piles of thinly sliced corned beef, tons of sauce (I like a messy sandwich), and delicious bread. I was completely stuffed.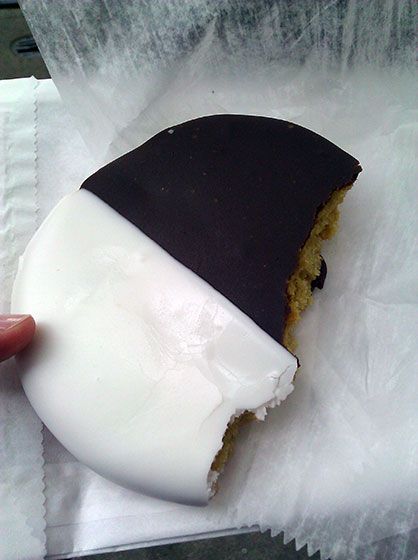 Also in the Reading Terminal Market is The Famous 4th Street Cookie Company. They had the most amazing selection of cookies. I'm usually a chocolate chip girl, but something drew me in to the Black & White. I still dream about this cookie today. It was perfectly soft and just enough chocolate and white icing. If this was the last cookie I'd ever eat, I'd be happy.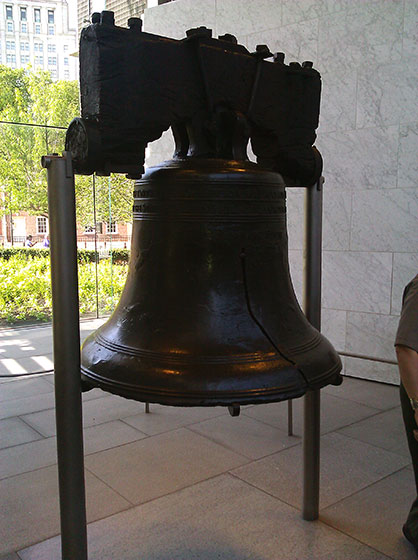 Of course when you're in Philadelphia, you have to visit the Liberty Bell.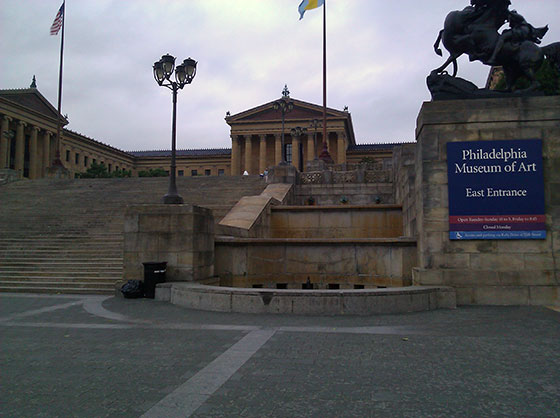 And the Rocky steps at the Philadelphia Museum of Art. Yes, we walked up and down them just to say we did. 😉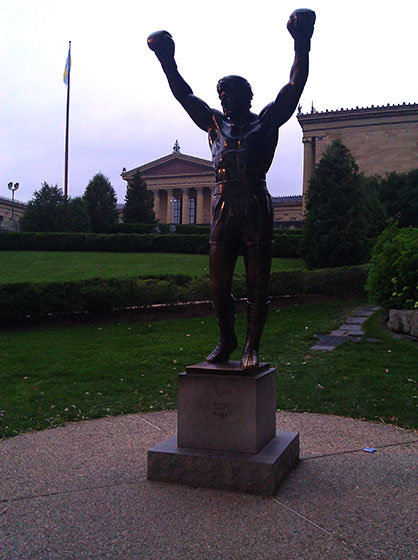 And the Rocky statue!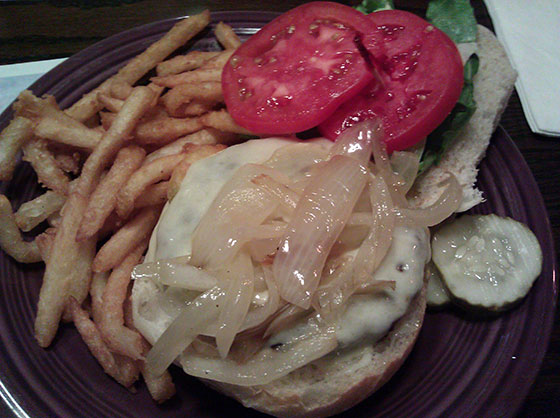 For lunch one day, we found our way into Moriarty's Restaurant & Irish Pub. We were in the mood for burgers and I had the Onion Burger. Caramelized onions, provolone cheese, lettuce, tomato, and garlic mayo. It was pretty good. Not mind-blowing, but a good burger nonetheless.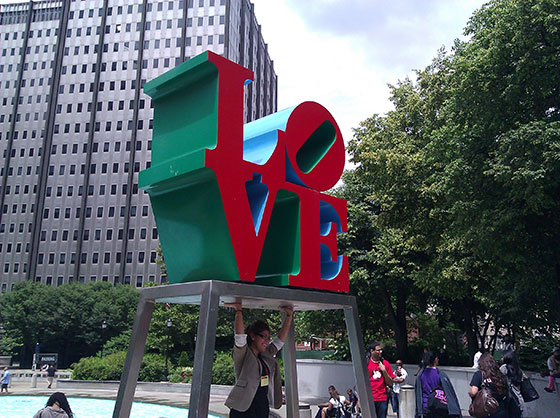 I bet you'll recognize this sign. It's in Love Park (officially JFK Plaza).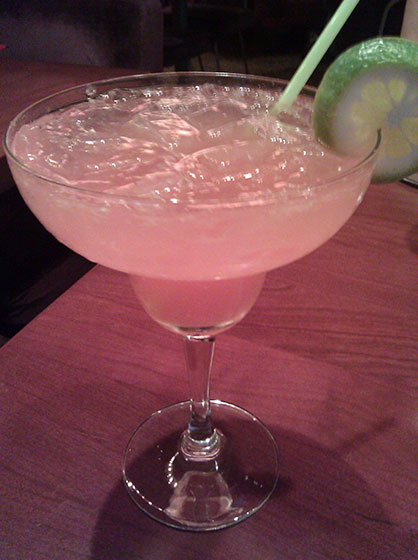 I've saved the best three spots for last. We had dinner at El Vez one night and we still talk about it. In honor of Bruce, we ordered the Pink Cadillac Margarita. Jose Cuervo Classico, triple sec, fresh orange, lime, and cranberry juices. It was awesome!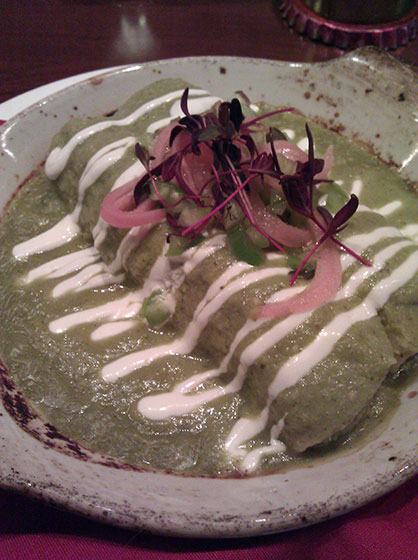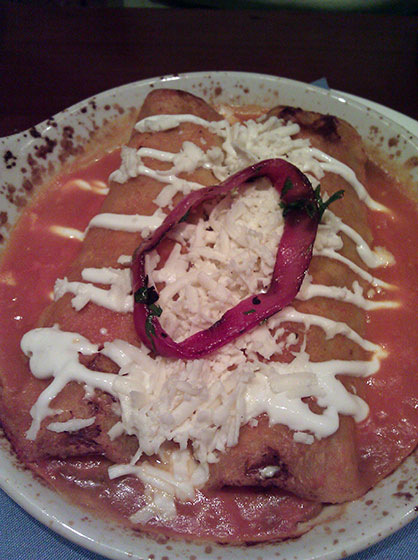 Mom and I both ordered from the specials that day. We got two different enchiladas, and both tasted spectacular. Mine had chicken inside with a chile verde sauce. Mom's had beef with a roasted red pepper sauce.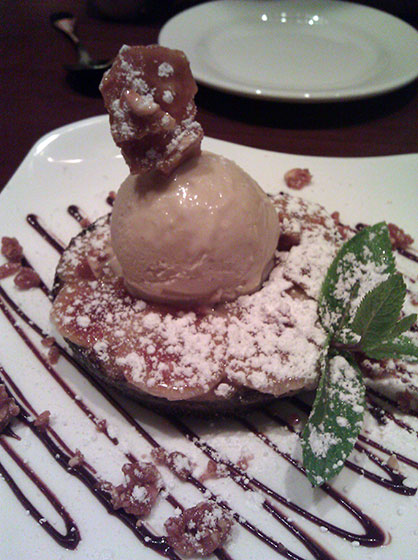 Of course we got dessert! We ordered the El Vez. Flourless chocolate cake, peanut custard with caramelized bananas, chocolate sauce, and peanut butter ice cream. It tasted as phenomenal as it sounds. Now you see why we enjoyed this place so much!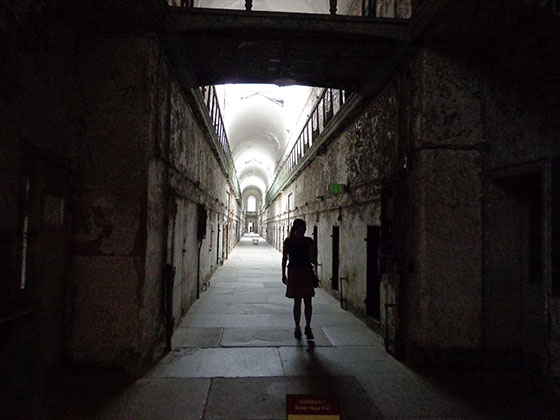 My favorite part of Philadelphia was touring the Eastern State Penitentiary. It's super spooky, but very interesting and huge! You could really spend a few days there. I thought this pic my mom took of me in one of the cell blocks was cool. I am dying to go back for Halloween when they do Terror Behind the Walls. Can you imagine how scary that would be?!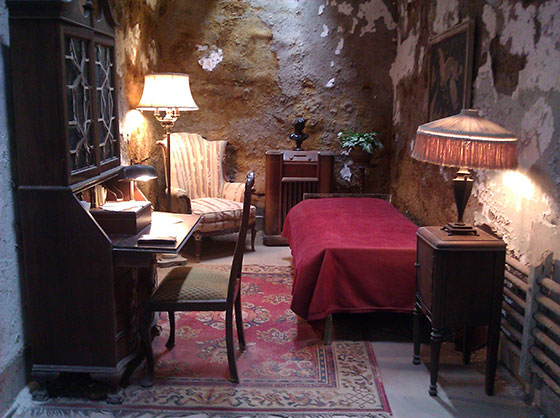 Al Capone's cell. Not quite like the others.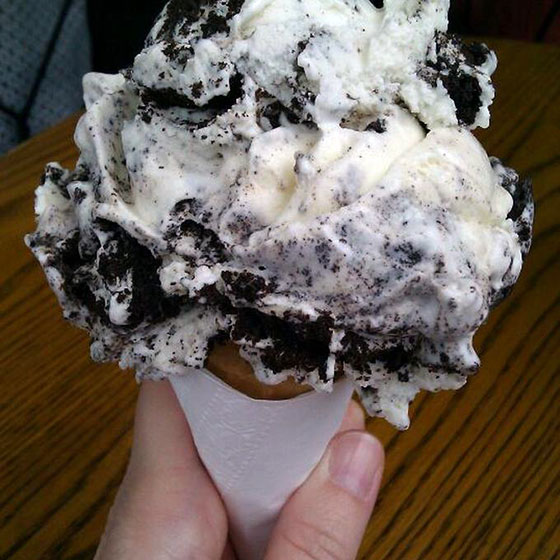 Last but not least, the Franklin Fountain! I could not wait to go here. It's such a cute shop with that old timey soda fountain feel. The hardest part was deciding what to order. I finally picked the Hydrox Cookie Ice Cream Cone. Probably the best cookies & cream I've ever had!
There are several cities on my list to visit, but I cannot wait to get back to Philadelphia!