It looks so cute right? I made myself a little Happy Birthday cake! Yep, today's my birthday! Now don't go feeling sorry for me that I made my own cake. I was having fun with the Wilton Tasty Fill Mini Cake Pans and thought I'd whip something together for a post on my special day. Plus my foodie BFF Shannon over at Bake Frost Repeat is baking me something fantastic tomorrow! See what she baked for me last year. I love the combination of chocolate, peanut butter, and banana, so I thought I'd come up with a creation of those flavors pulling from several different recipes. That resulted in Surprise Butterfinger Banana Cake! There's only one problem though…if you notice, this post is in the Oops! category. *sigh*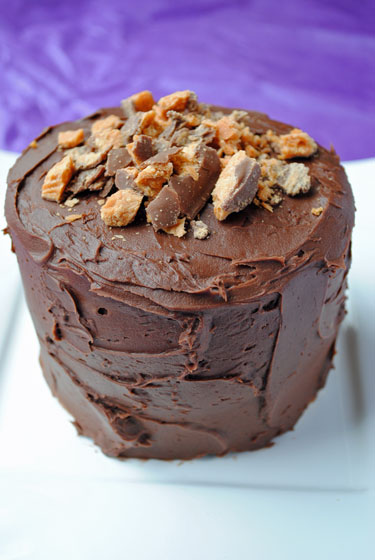 So, how's it taste?
It's horrible. So, so bad. The cake turned out thick, not light and moist like I wanted. I halved the recipe and followed it to a T and it just didn't taste good. Part of the problem is my fault. I needed very ripe bananas and it's hard to find them when they aren't green. So my bananas weren't ripe enough. The cake has that slight gross taste from unripe bananas. Some folks eat green bananas, I like mine with tons of black spots, that's when you know they're going to be sweet and delicious. So strike one there. There's Butterfinger chunks throughout but not enough. I almost added some mini chocolate chips and after, I wish I had.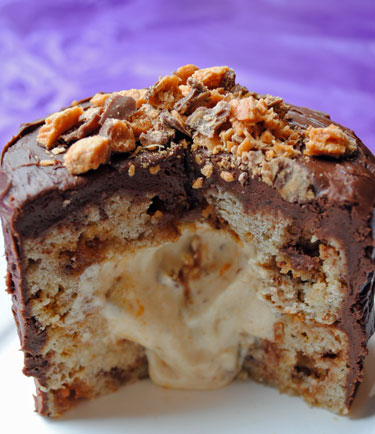 You can probably guess strike two. The "surprise" part was the filling inside. I picked a filling from a Butterfinger Pie recipe that I've made before. The pie was fantastic, but as you can see, it didn't set up enough to hold its own once the cake was cut. Oozing Butterfinger filling everywhere. But on the plus side, it tasted fantastic! It's peanut buttery and also has chunks of crunchy Butterfinger. I'm not sure what I did wrong here. I needed about 1/8 of the regular recipe and recipe math is a big ol' pain in the butt, so I'm sure I'm to blame for this one. I remember the pie filling being thicker, but it's really difficult to fourth an egg yolk and even a bigger pain to figure out 1/16 of a teaspoon.
I frosted the cake with chocolate tub frosting. Don't judge…it's my birthday and I freakin' love that stuff. So at least the frosting and bits of Butterfinger tasted good. I decided not to give you the recipe because I think the cake part is just gross and not a good recipe. I'd like to revisit this flavor combination some day and see if I can make it taste good. I like the idea, but it needs some work.