Well, here's another one for my Oops! category. So bummed. This Double Cherry Upside Down Cake looked amazing in Cooking Light. I couldn't wait to bake it. Plus the kind folks over at OXO sent me a cherry pitter to try and I was dying to find a recipe worthy of my precious Rainier cherries. I pop those things like candy, so I don't want them to go to waste (and they aren't exactly cheap). Look how gorgeous this cake is! Ah, but looks can be deceiving.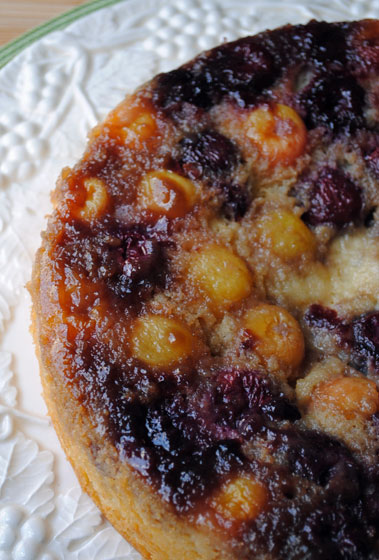 So, how's it taste?
It's so pretty, but look closely. The middle was a big ol' soupy, raw mess. I baked it 10 minutes longer than suggested since it was jiggly in the middle when I first pulled it out. I knew better when I pulled it out the second time and it was still jiggly. But I convinced myself that the recipe has to be right and maybe it sets up as it cools. WRONG! I'm kicking myself that I didn't go with my instinct. I'm no super chef in the kitchen, but I've baked enough to know better and I knew that cake wasn't going to be done in the middle. I'm also kicking myself that I didn't read the reviews before making the recipe. Every single one complains about the baking time. I don't know what's going on at Cooking Light, but they need to revisit this one. It's a good lesson though to go with what you know and not trust a recipe word for word. I've been "recipe burned" plenty of times to know that's true.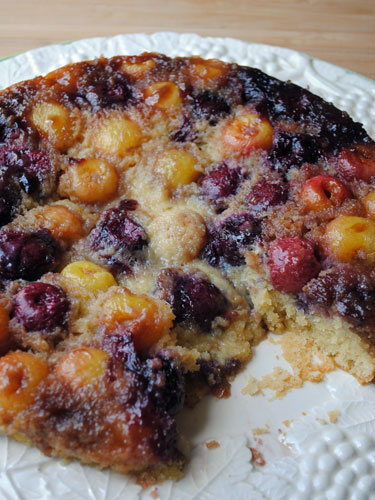 Moving on to the taste. I'm not sure I'd love this cake even if it baked properly. Before adding the cherries to the pan, it's covered in butter and brown sugar. Doesn't sound bad right? But it's 1/3 cup of sugar and it's way too much. I have an insane sweet tooth and it was too much for me. The cake isn't very sweet, but the overkill of brown sugar on top ruins it. It's mushy brown sugar goo coating those precious cherries. I can't decide how I feel about the cake. It's got good flavor, but in a weird way. It tastes like custard to me, and I'm not a big fan of custard. Too eggy. One bite and I like it, one bite and I hate it. I salvaged the edges of the cake and I'm not ashamed to admit that I picked out every single cherry in the middle and saved them before I threw it out. I've eaten two pieces of the cake that was rescued and I still can't make up my mind. The brown sugar really spoils it. It's so sickeningly sweet that I'm nauseated after. That never happens.
What I did discover is how much I love cooked cherries. I will eat fresh Rainier cherries all day long, but I find other cherries to be quite tasteless. Definitely not the case when cooked. The darker cherries (can't remember which kind I bought) had such a concentrated cherry flavor and were a bit sour. That helped a little with the oversweet cake, but not enough. The Rainier cherries reminded me of baked apples. Sweet and tender and incredible! Now you see why I saved them from the disaster. I think I'll pick out the rest of my beloved cherries and send the cake edges to the trash. I'm not sure this recipe is worth revisiting. Although one comment on the Cooking Light web site mentioned adding an extra 1/2 cup flour and that did the trick. I think I'll put my cherry pitter to good use, make a pie next, and forget this cherry cake business.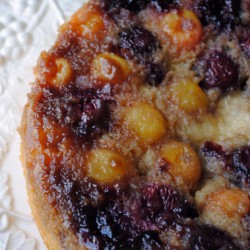 Double Cherry Upside Down Cake
Ingredients:
Cooking spray
2 tbsp. butter, melted
1/3 cup packed brown sugar
2 cups pitted fresh Rainier cherries
2 cups pitted fresh Bing cherries
6 3/4 ounces all-purpose flour (about 1 1/2 cups)
2 tsp. baking powder
1/4 tsp. salt
1/4 tsp. baking soda
3/4 cup granulated sugar
6 tbsp. butter, softened
3 tbsp. canola oil
1 1/2 tsp. vanilla extract
2 large eggs
1 cup fat-free buttermilk
Directions:
1. Preheat oven to 350°.
2. Coat a 9-inch springform pan or cake pan with 3-inch sides with cooking spray; line bottom of pan with parchment paper. Coat paper with cooking spray. If using a springform pan, wrap outside and bottom of pan tightly with a double layer of heavy-duty foil.
3. Drizzle melted butter over parchment in bottom of pan; sprinkle with brown sugar. Arrange cherries in a single layer over brown sugar. Place pan on a baking sheet lined with foil.
4. Weigh or lightly spoon flour into dry measuring cups; level with a knife. Combine flour, baking powder, salt, and baking soda, stirring with a whisk; set aside. Place granulated sugar, softened butter, and oil in a large bowl; beat with a mixer at medium speed until well blended (about 3 minutes). Beat in vanilla. Add eggs, 1 at a time, beating well after each addition. Add flour mixture and buttermilk alternately to oil mixture, beginning and ending with flour mixture (batter will be thick). Spread batter evenly over cherries in pan. Bake at 350° for 30 minutes.
5. Reduce oven temperature to 325° (do not remove cake from oven). Bake at 325° for 25 to 30 minutes or until a wooden pick inserted in center comes out clean. Cool in pan on a wire rack 10 minutes. Loosen cake from edges of pan with a knife; invert onto wire rack.