Is it just me or is 2015 flying by? I swear it was just the other day when we wrapped up Cooking Baking Day 2014 and here I am reporting on what we made this year already! Our 2015 Cooking Baking Day was a few weekends ago and we sure had a blast! It's getting harder for me to pick out which cookies we make because after five years, we've gone through a lot of varieties! I try to have something chocolate, something not chocolate, and something colorful. We always make Cream Cheese Spritz Cookies and this year I promoted these Mint Chocolate Chip Cookies to the annual list. They are so freakin' good! They deserved it!
On my "something not chocolate" list were these Pumpkin Pecan Spice Cookies. I kind of hesitated on them because I feel like by this time of year, everyone is sick of pumpkin spice. I couldn't resist though. Pecans!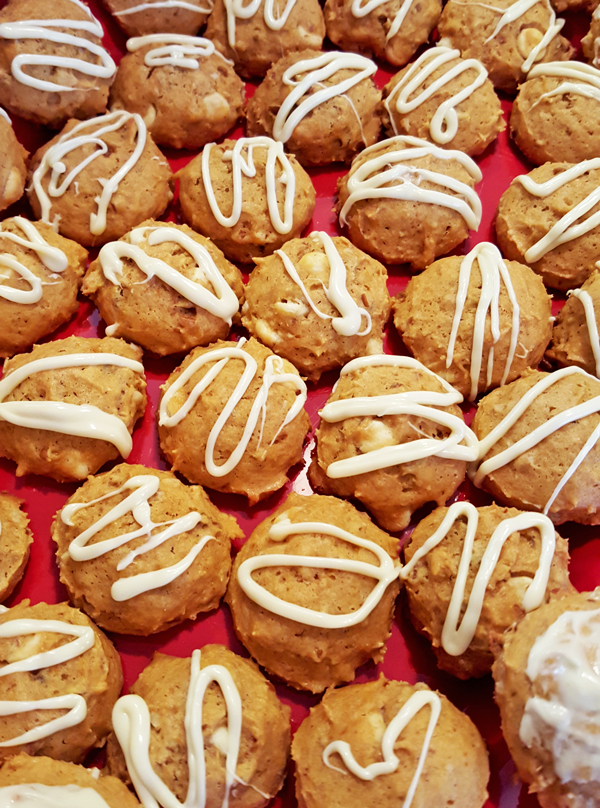 So, how's it taste?
Happy I chose these! I did overbake them just a bit, so mine were a tad dry, BUT that didn't stop the awesome flavor. Christmas season has me craving warm, comforting spices like cinnamon, nutmeg, and cloves. The usual suspects in pumpkin pie spice. This recipe called for a pinch of cardamom, which I skipped because HELLO! expensive. It's really not worth paying for it if you just need a pinch of it and aren't going to use it very much later. The cookies didn't suffer without it, I promise.
The spices really shine through on this cookie and I like that it's not overly sweet. I LOVED the pecans in it, too. I almost decided not to glaze them (I'm lazy), but ended up doing so because these cookies really need that boost of sweet glaze on top, even with the white chocolate chips. Some of the cookies got squiggles of glaze and some got spread with glaze. Both worked fine, so it's up to you on how you want to glaze them. I didn't use almond bark, but melted more white chips instead. Either one will work fine.
I would definitely make these again…watching the cook time a little more closely though.
Other goodies from Cookie Baking Day 2015:
Cream Cheese Spritz Cookies
Mint Chocolate Chip Cookies
Cake Batter Chocolate Chip Cookies
Reese's Pieces Chocolate Cookies
Holiday Pantry Cookies (recipe coming soon!)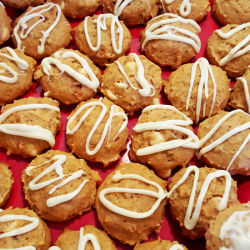 Yield: about 3 1/2 dozen cookies
Pumpkin Pecan Spice Cookies
Ingredients:
1 1/2 cups packed light brown sugar
1/2 cup butter, softened
2 eggs
1/2 cup canned pumpkin (not pumpkin pie mix)
3 tsp. vanilla
2 3/4 cups all-purpose flour
2 tsp. baking powder
1 tsp. ground cinnamon
1/2 tsp. salt
1/2 tsp. ground ginger
1/4 tsp. ground nutmeg
1/4 tsp. ground cloves
1/8 tsp. ground allspice
1 1/3 cups finely chopped pecans
1/2 cup white vanilla baking chips
4 oz. vanilla-flavored candy coating (almond bark), chopped*
*Note: Instead of using the almond bark, I melted more white vanilla baking chips.
Directions:
1. Heat oven to 350F. Grease cookie sheet with cooking spray or line with parchment paper.
2. In large bowl, beat brown sugar, butter, eggs, pumpkin, and vanilla with electric mixer on medium speed. Stir in flour, baking powder, and spices. Stir in pecans and baking chips. Drop dough by tablespoonfuls onto cookie sheet. (My dough scoops were smaller. I use a small cookie scoop which holds 2 teaspoons.)
3. Bake 10 to 14 minutes or until edges are lightly browned. Remove to cooling rack. Cool completely, about 30 minutes.
4. Place candy coating (or white chips) in small resealable freezer plastic bag; seal bag. Microwave on High about 1 minute or until softened. Gently squeeze bag until coating is smooth; cut off tiny corner of bag. Squeeze bag to drizzle coating over cookies. Let stand until set.