Fudge is so delicious and such a staple around the holidays. I don't like to make it though. Candy thermometers are a pain and I've had my fair share of grainy fudge to turn me off of the real stuff. Enter Easy Fudge. I can't remember when we first started making this version of fudge, but we make it every year. It's pretty much foolproof and tastes fantastic. No more thermometers, no more nasty texture. It's perfect.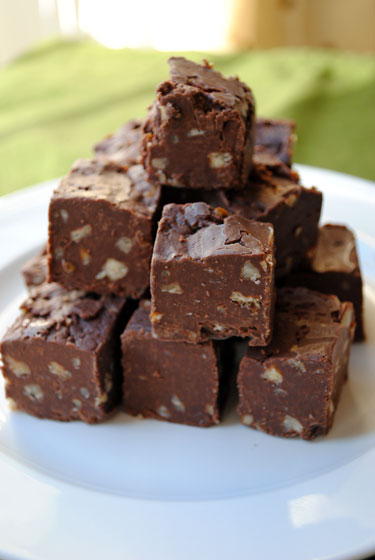 So, how's it taste?
It's super creamy, chocolatey, and has a nice crunch from the nuts. Adding nuts is optional, which I prefer my fudge with pecans. Two obsessions in one bite! Walnuts would work great, too. I add the full cup of nuts, but you may want to do less if you're not as crazy about pecans as I am. It's a lot of nuts. Now this recipe isn't going to taste exactly like homemade fudge. You can slightly taste that chocolate chip flavor, but the texture is amazing. No danger of bits of grainy sugar here. The hardest part about this fudge is waiting for it to set so you can dig in!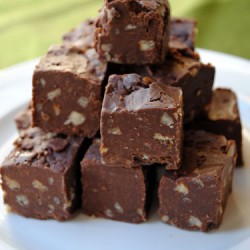 Easy Fudge
Ingredients:
3 cups (18 oz.) semisweet chocolate chips
1 (14 oz.) can sweetened condensed milk
Dash salt
1 1/2 tsp. vanilla extract
1/2 to 1 cups chopped nuts (optional)
Directions:
1. Line an 8- or 9-inch square pan with wax paper, extending it over edges of pan.
2. Melt chocolate chips with sweetened condensed milk and salt in heavy saucepan over low heat. Remove from heat.
3. Stir in vanilla and nuts. Spread evenly into prepared pan.
4. Chill 2 hours or until firm. Remove from pan by lifting edges of wax paper. Cut into squares. Store in the refrigerator.