Say hello to the only gingerbread cookie I'll be eating from now on. These Chewy Chocolate Gingerbread Cookies are amazing. I immediately put them on my list to bake just so I could taste the combination of chocolate and gingerbread together. We've made some pretty stellar gingerbread cookies in the past, but these really kicked it up a notch.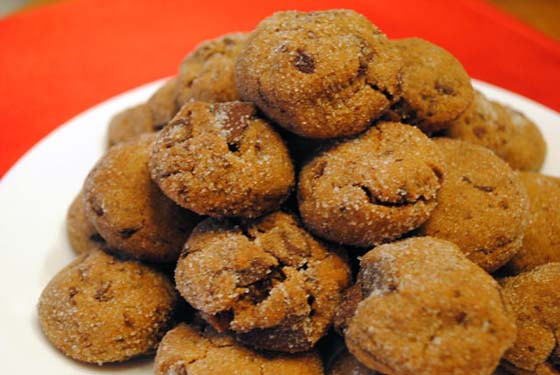 So, how's it taste?
Chewy like they are supposed to be with yummy bites of chocolate. What makes this gingerbread version so fantastic is not only the chocolate, but the freshly-grated ginger. I mean these are truly gingerbread. If you're not a fan of ginger, these aren't for you. It's got your usual ground cinnamon, ginger, cloves, and nutmeg, and I was afraid the addition of chocolate would make them lose their spice. Absolutely not! I think these are more gingery-spicy (new word!) than regular gingerbread. I'm tempted to bake some more already!
Other goodies from Cookie Baking Day 2010:
Almond Macaroons
Buttery Pecan Rounds
Crunchy Muncher Cookies
Striped Icebox Cookies
Mint Chocolate Chip Cookies
Chunky Peanut, Chocolate, and Cinnamon Cookies
Cream Cheese Spritz Cookies
Apricot Sour Cream Tea Cookies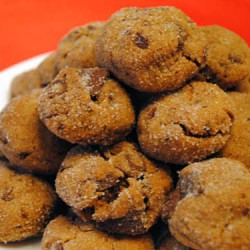 Chewy Chocolate Gingerbread Cookies
Ingredients:
7 oz. best-quality semisweet chocolate
1 1/2 cups plus 1 tablespoon all-purpose flour
1 1/4 tsp. ground ginger
1 tsp. ground cinnamon
1/4 tsp. ground cloves
1/4 tsp. ground nutmeg
1 tbsp. unsweetened Dutch-process cocoa powder
8 tbsp. (1 stick) unsalted butter
1 tbsp. freshly grated ginger
1/2 cup dark-brown sugar, packed
1/4 cup unsulfured molasses
1 tsp. baking soda
1/4 cup granulated sugar
Directions:
1. Line two baking sheets with parchment. Chop chocolate into 1/4-inch chunks; set aside. In a medium bowl, sift together flour, ground ginger, cinnamon, cloves, nutmeg, and cocoa.
2. In the bowl of an electric mixer, fitted with the paddle attachment, beat butter and grated ginger until whitened, about 4 minutes. Add brown sugar; beat until combined. Add molasses; beat until combined.
3. In a small bowl, dissolve baking soda in 1 1/2 teaspoons boiling water. Beat half of flour mixture into butter mixture. Beat in baking-soda mixture, then remaining half of flour mixture. Mix in chocolate; turn out onto a piece of plastic wrap. Pat dough out to about 1 inch thick; seal with wrap; refrigerate until firm, 2 hours or more. (I found you only need to put the dough in the freezer for about 15 minutes. I just put it in there in the mixer bowl and skip the plastic wrap!)
4. Heat oven to 325 degrees. Roll dough into 1 1/2- inch balls; place 2 inches apart on baking sheets. Refrigerate 20 minutes. (I skip the refrigeration step.) Roll in granulated sugar. Bake until the surfaces crack slightly, 10 to 12 minutes. Let cool 5 minutes; transfer to a wire rack to cool completely.