I thought long and hard before writing this post. Did I really want to use my blog to call out a company? Did I really want to potentially burn a bridge with one of the biggest food companies out there? After giving plenty of opportunities for them to make things right, and getting nothing but ignored, the answer was yes.
In late January I was contacted by Alexa Stark from Martha Stewart. Yep, Martha, freaking, Stewart. I couldn't have been more excited to have landed on their radar with this little blog of mine.
I was approached by Alexa to see if I wanted to receive a copy of their Clean Slate cookbook, plus the Martha Stewart white dishware collection, in exchange for a blog post.
Of course I wanted to learn more! (Hello, who wouldn't?)
The pitch was for me to participate in their Clean Slate challenge, which after reviewing it, it wasn't for me. So I countered with doing a series of posts (in hindsight, this was probably not smart) where I would highlight a meal from each course: breakfast, lunch, dinner, dessert. Alexa agreed and I was quickly shipped the cookbook and the dishes.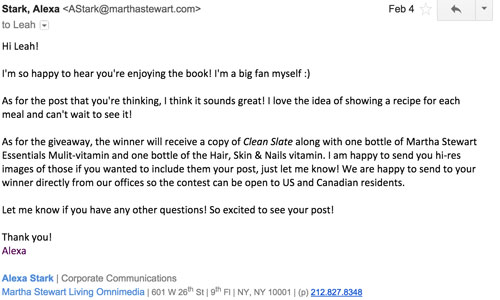 So far, Alexa was great to work with. Some of the dishware arrived chipped and I asked if I could take them to my local Macy's to swap them out. She offered to just ship me another set and those came asap!
In total, I created a four-post series. As a blogger, this can be a lot of work. For each post I:
Shop for and purchase the ingredients
Make each meal
Photograph each meal (this includes plating with their specific dishes, styling, and taking a bajillion photographs to get the perfect few)
Edit each photograph (I use photoshop to enhance my photos and this can be time consuming, especially for a series)
Write, edit, and publish the posts
Send an email out to my subscribers
Use my social media channels to promote the post
There's so much that goes on behind the scenes! I'm not throwing a "poor Leah, look at all that work she does" pity party. If I didn't love it, I wouldn't do it. However, this is why many bloggers charge for this kind of post. I was cool with a cookbook and dishware.
I felt my series turned out great and on February 24 I had a giveaway winner. I emailed Alexa and the next day she responded that she would "get the cookbook and vitamins out the door today!"
Fast forward to April 10, and my winner emails me that she hasn't received her prize.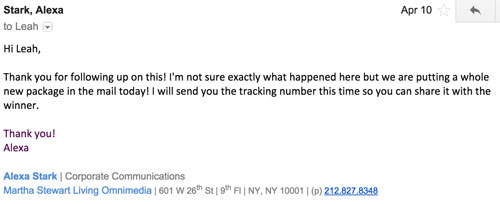 Alexa promised to send another prize and provide me the tracking information to pass along to my winner.
I never received the tracking number, but trusted that everything was fine.
On April 25 I heard from my winner again. Still no prize. I emailed Alexa, and admittedly I could've been nicer, but I was incredibly embarrassed. It had been two months and still no prize for my winner. I asked her to please check on it, and mentioned I was embarrassed because it looked bad on me as a blogger.
No response.
On April 28 I emailed Alexa again.
No response.
On May 4 I emailed Alexa again.
No response.
On May 6 I called her and left a voicemail.
No response.
I can't believe Martha Stewart employs someone that would dupe a blogger. I put an incredible amount of time and effort into those posts, all in exchange for a cookbook and dishware. I'm baffled as to why they can't put a cookbook (and two bottles of vitamins) in the mail as promised.
This was a first for me and completely unexpected from Martha Stewart. Fellow bloggers, I would not recommend working with Alexa Stark. As for Martha Stewart as a company, I'm still figuring out how I feel about them.
I have removed the Clean Slate posts from my blog, which pained me to do. It's a shame because those brownies were so darn good!
Any advice from fellow bloggers? Has this happened to you?
Update 6/30/15
I never thought I'd hear from Alexa, but last night she called to apologize and followed up with an email. I missed her phone call, but I give her props for trying to apologize over the phone. I certainly wouldn't want to be the one making that phone call…almost two months later.
She didn't leave a voicemail, but instead sent this email.

While I appreciate the apology, her excuse bothers me. Several years ago I read Randy Pausch's "The Last Lecture." (If you haven't read it, I HIGHLY recommend it.) What has stayed with me is his thoughts on the real apology.
How you give a real apology:
1. I'm sorry.
2. It was my fault.
3. How can I make it up to you?
Own up to it. Don't blame it on your email being "funny" sometimes. It's pretty clear in the numerous emails I kept sending, that I wasn't getting a response. That also should've been pretty clear when I made one last effort and called. Is your voicemail also "funny" sometimes and you just now heard it from two months ago?
I felt a bit of "oh here we go again" when I read that she tracked the package and it showed as being received two months ago because I hadn't heard from my winner. I contacted my winner to verify that she received it and mentioned that I'd try to get the tracking details if not.
Here's where the plot thickens.
My winner emails me back that she received the package (YAY!)…two months ago. ARE YOU KIDDING ME? On the one hand, I was really happy to learn that Alexa made good on actually sending the prize after my winner had to ask about it twice. On the other hand, I was livid that I'd been basically hounding Alexa over it when it appears my reader got it a few days later.
But here's why I mention how to give a real apology. My winner's response:
"Yes, I received the package around two months ago and replied letting you know. I thought for sure that you had responded to my email, but I am not seeing it offhand. I feel bad that you never received my response!"
Wow, two people with email issues!
I never received an email from my winner letting me know that she received the package. Had either of these two communicated with me, this could have saved a lot of stress and anger over the past several months. But to take it so far as to say that I responded to that email, but you can't find it? And you feel bad that I never received your email? How about feeling bad that you never emailed?
Own up to your mistakes. Apologize. There's no harm is saying something was your fault.
Don't blame your email. Don't blame technology. Don't blame anything.
I'm glad this got resolved, but I can't help feeling like I'm the one left with pie on my face. I didn't lose any sleep over this. I didn't think about it daily, but it did bother me. I'd periodically wonder if I should've purchased the cookbook and mailed it (out of country) myself. Thank goodness I didn't.
I hated feeling like I had disappointed a reader. I hated feeling like I had done all that work for just a bunch of stress.
I emailed Alexa back and thanked her for following up. I told her that my winner did, in fact, receive the package and I was happy everything worked out. I also emailed my winner and told her I was glad she was enjoying the cookbook, but that I never received her email and I'd been hounding my rep for months.
I don't feel bad about writing this post, nor this update. I stand by it because I did what I felt was right with the information I had. The prize wasn't mailed in a timely manner, my winner had to ask about it twice (months later), and I was ignored for months. I'm still feeling the sting from both the company and the reader, so I think it's going to be a while before I host another giveaway.
I've decided to republish the Clean Slate posts. It feels good to have my hard work shown on the blog. Maybe I should bake a batch of those brownies to make me feel better…nah.