A few months shy of three years ago, So, How's It Taste got its first major facelift. I moved to WordPress, got a much more user-friendly site, and a fancy header. Today I want to welcome you to an all new, even snazzier So, How's It Taste! (If you're viewing this post in your RSS reader or email, you'll want to head over to the blog to check it out!)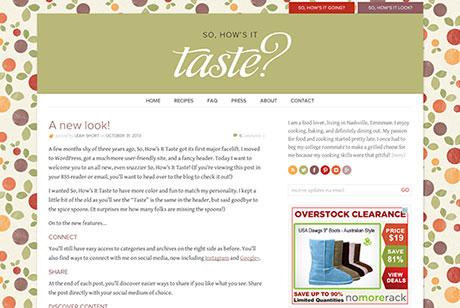 I wanted So, How's It Taste to have more color and fun to match my personality. I kept a little bit of the old as you'll see the "Taste" is the same in the header, but said goodbye to the spice spoons. (It surprises me how many folks are missing the spoons!)
On to the new features…
Connect
You'll still have easy access to categories and archives on the right side as before. You'll also find ways to connect with me on social media, now including Instagram and Google+.
Share
At the end of each post, you'll discover easier ways to share if you like what you see. Share the post directly with your social medium of choice.
Discover Content
At the end of each post, you'll also see links to related content making it easier to discover previous posts from So, How's It Taste that you may have missed.
Choose Your Email Content*
While I'm really excited to share more with you that's not related to food, I'm well aware that some of you may be thinking, "Keep it to the food, yo." No problem! By default, all current email subscribers will receive all posts, no matter the category. Make sure to update your email preferences to receive only emails related to food.
Already an email subscriber? Update your email preferences to select which type of posts you'd like to receive. Simply return to the signup form, type in the email address you used to signup, and a link will appear to update your profile.
I hope you enjoy the new look and features of So, How's It Taste!
*This feature is no longer available. Email subscribers will receive an email with every new post, no matter the category.