I finally made my way to the Gerst Haus, located at 301 Woodland Street, just outside LP Field. This one has been on my list for quite some time. One look at the menu and I knew I was going to have a tough time deciding what to eat. First up were the Gerst Ham Rolls followed by a classic Reuben with a side of German Potato Salad.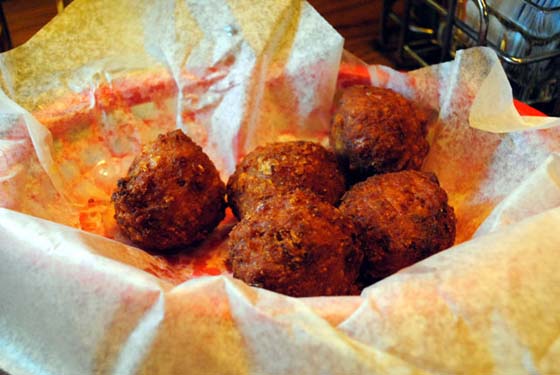 So, how's it taste?
The Gerst Ham Rolls were chopped ham, cheddar cheese, and seasonings rolled in breadcrumbs and deep fried. I didn't read the description closely and was fully expecting mini rolls with ham slices, so I was shocked when a basket of these fried goodies came out. They are served with a side of homemade spicy mustard. I thought they were pretty good, but a bit on the salty side and I couldn't really taste the cheddar. The ham had a nice flavor and the balls were best dipped in the mustard.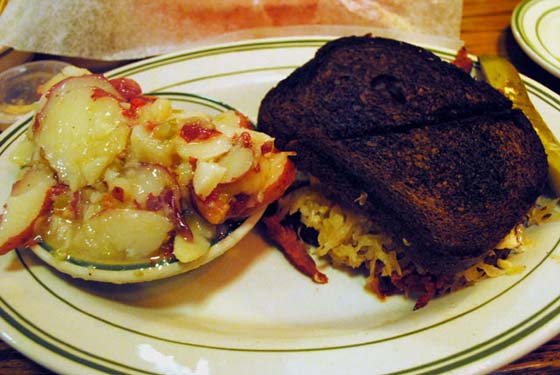 My Reuben came out on a huge platter with a big side of German potato salad. Corned beef, swiss, sauerkraut, and special sauce all grilled on rye bread. My rye was a bit toastier than I would have liked, but it didn't keep me from enjoying the sandwich. I love Reubens and order them a lot. I thought this one was delicious. Their sauce tasted similar to the usual 1000 Island you find, but wasn't as thick. The sandwich was such a generous helping that I enjoyed it for lunch the next day! My only disappointment was the German potato salad. I didn't like it. Some of the potatoes were still a bit raw and it was missing a lot of flavor. I felt like I was eating oily, raw potatoes. I'll skip the salad on my next visit.