Food Blog Forum Nashville was this past weekend and what a weekend it was! Beth from Eat. Drink. Smile., Lindsay from Love & Olive Oil and myself worked incredibly hard for months in advance to bring this shindig to Nashville. I think we did a pretty good job and hopefully a bunch of fellow food bloggers went home happy!
Forgive me for the lack of pictures and the quality as I forgot about my camera for most of the weekend (strange coming from a food blogger!). I was having too much fun!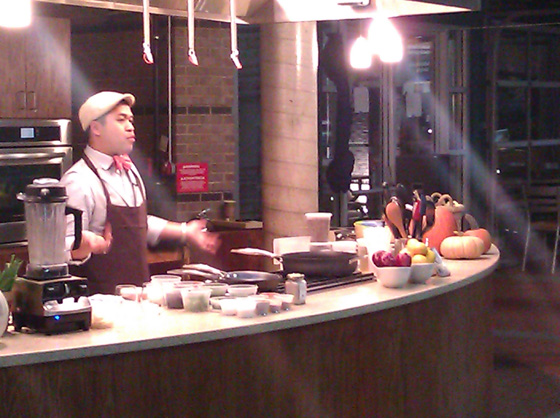 To kick off the weekend, we had a Taste of Tennessee party at the Farmers' Market. Local vendors gave attendees samples of their delicious products and we even had Chef Arnold Myint from Season 7 of Top Chef! We tasted goodies from Perl Catering, Bathtub Gin, The Bloomy Rind, Corsair Artisan Distillery, Loveless Cafe, Goo Goo Clusters, Grinder's Switch Winery, O.liv Body Bar, Olive & Sinclair, Yazoo Brewing Company, and Mista Dale's. To say I left with a full belly is an understatement. A huge thanks to these sponsors for showing our attendees just how good the local taste is from Tennessee!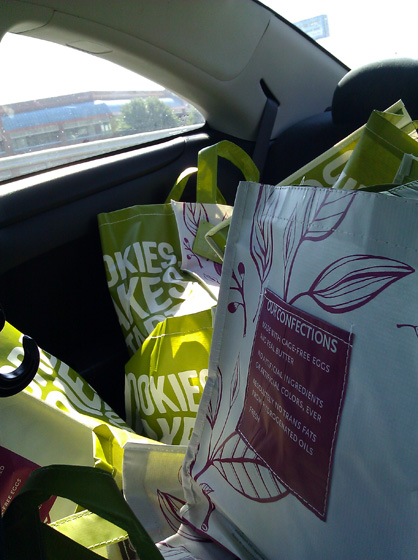 As if all that wasn't enough, each attendee received an awesome bag full of swag. We spent about three hours filling each bag to capacity Thursday night. A big shout out to Annakate from La Aguacate and Tabitha from Life a la Mode for helping us pack all those bags! This is a picture I took as we were hauling all the swag bags to the Farmers' Market. This doesn't even begin to tell the story of how many of these we had. I'm proud to say that two SUVs, one sedan, and one coupe hauled all those goodies in one trip. A huge thanks to Beth's sister, Mechelle for her organizing and packing skills. We couldn't have handled all the craziness without Mechelle! Planning and organizing obviously runs in the family.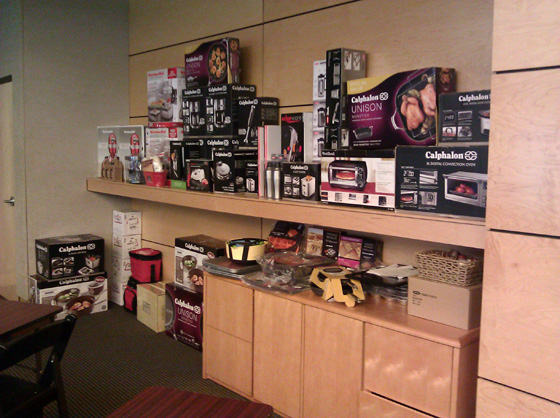 We really did an incredible job of making sure our bloggers went home happy. Not only did they get a sweet bag full of goodies, but check out the door prizes. Every single person went home with a door prize. We had some amazing sponsors who were incredibly generous. I can't begin to thank them enough.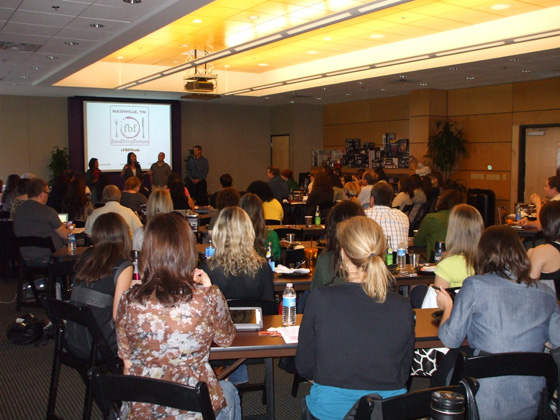 While the goodies are nice, it's also about the education and the networking. From food styling and photography, to blogging as a business, to recipe development, to blogging etiquette, to working with brands, we had something for everyone. It's always great to meet fellow bloggers in person that you've made friends with via your blog and Twitter, too!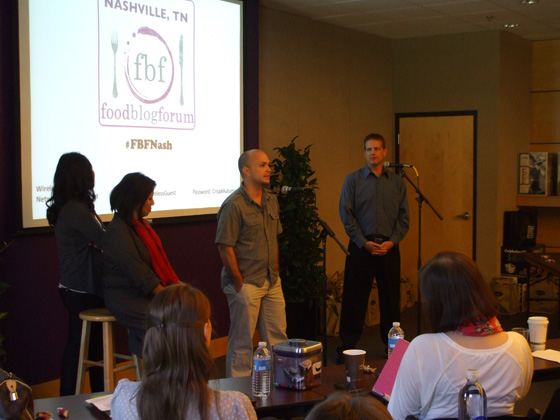 We couldn't have done it without Jaden and Scott of Steamy Kitchen and Todd and Diane of White on Rice Couple. Their enthusiasm and passion for food bloggers and blogging is contagious. I always leave with a ton of inspiration and a mile-long to do list.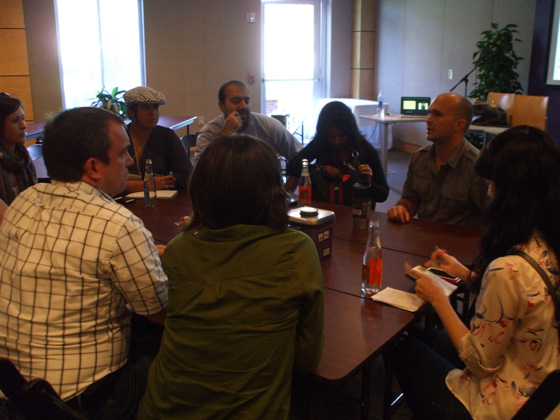 Here's Todd in our roundtable sessions talking more about food photography and styling.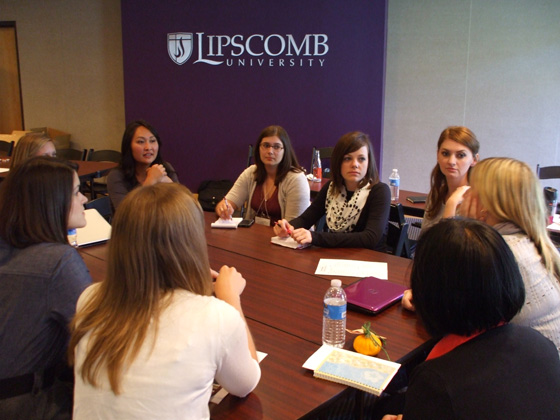 And the lovely Diane also speaking about food photography and styling in her roundtable.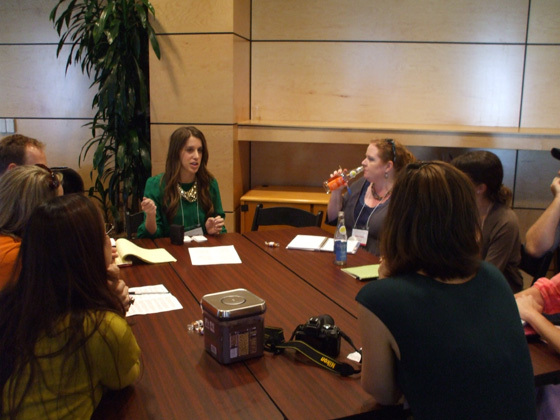 Our bloggers also enjoyed having Kelly Senyei from Just a Taste speaking on recipe development.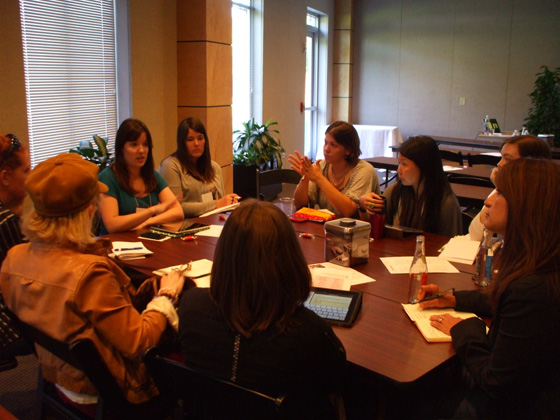 It's our very own Lindsay from Love & Olive Oil talking about blog design. She really knows her stuff as I have her to thank for this pretty blog!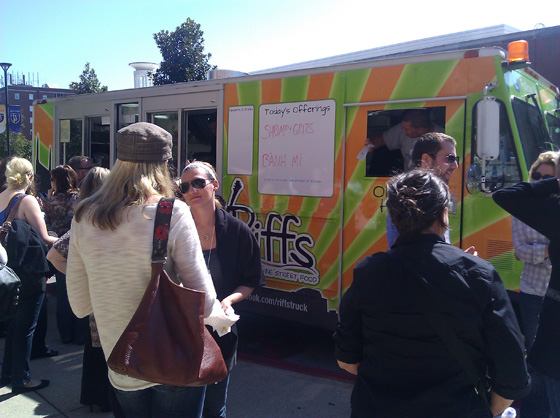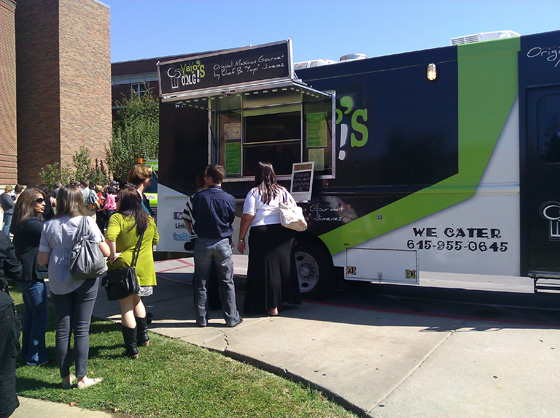 We treated the bloggers to a food truck court for lunch. Many, many thanks to Riffs, Yayo's OMG, and Happy Eating for serving up one heck of a lunch and showing just how delicious the food truck scene is in Nashville.
We closed the weekend with an after party courtesy of The Patterson House. They served up yummy bites to eat and a killer menu of cocktails. As if I didn't already love this place, they really went all out for our folks and made it the perfect ending to a fabulous weekend.
Thank you to everyone that came to Food Blog Forum! It was wonderful to finally meet so many friends in person and make new ones. I always come away with so much joy knowing that there are so many people out there who love blogging about food as much as I do. It really is quite an awesome community. I hope you all enjoyed it as much as I did!
Finally, a GIGANTIC thanks to our sponsors. Our event wouldn't have been as successful without your generosity. We enjoyed working with you and showing off your products and I'm sure our attendees are very grateful for the awesome gifts!
Not able to make it to Food Blog Forum Nashville? Stay tuned! I'll be giving away one of the awesome swag bags! Can't wait? Check out Love & Olive Oil and enter to win one there as well!