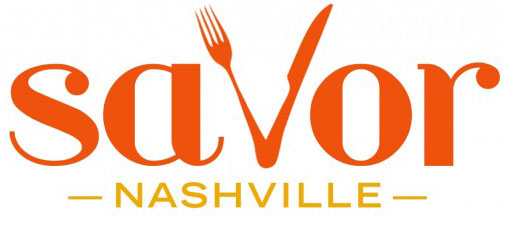 Savor Nashville is back for its second year May 19th & 20th and I couldn't be more excited. It kicks off next Saturday night with a Celebrity Chef Dinner. I went to this dinner last year and I left with a very happy full belly. The food and wine pairings were incredible and it kept coming. There's something to be said for a night out enjoying a multi-course dinner. I didn't blog about it last year, but luckily my friend Beth over at Eat. Drink. Smile. did! Check out her recap but make sure you're wearing a bib to catch all the drool. What blew everyone away was the halibut. I'm usually not one to pick fish over steak, but the flavor combinations were stunning. Of course, a close second was dessert. I was so full at this point, but I was determined to finish. It's definitely worth the price tag to attend this dinner. Another bonus was I discovered several new wines I enjoy thanks to the wine pairings with each course!
On Sunday is the Challenge to the Chefs. Local chefs will compete by creating unique dishes that must feature at least one of these Tennessee products: Benton's Bacon, Goo Goo Clusters, and Jack Daniel's Tennessee Honey whiskey. Attendees get to taste the creations by all competing chefs and there also will be a Bloody Mary bar. Sign me up! What really got me looking forward to this event was watching Chef Deb Paquette make Goo Goo Quesadillas on News Channel 5 the other day. She used all three ingredients in one dish! If that's the kind of food I have to look forward to that Sunday, I'll be the first person there!
Competing chefs include Jeremy Barlow of Tayst and SloCo, Thomas Cook of Prime 108, Brandon Frohne of Rutland Place Catering and Nashville Urban Gardeners, Giovanni Giosa of Porta Via Italian Kitchen, Matthew Lackey of Flyte World Dining, Deb Paquette of Etch, Kevin Ramquist of F. Scott's Restaurant and Jazz Bar, Jarvan Springer of West End Café, Robert Spinelli of perl Catering, Keith West of Puckett's Grocery and Restaurant, Toby Willis of Nashville City Club, and Robbie Wilson of Kayne Prime, Tavern, Whiskey Kitchen, and Virago.
Individual tickets are $150 for the Celebrity Chef Dinner and $35 for Challenge to the Chefs. An all-access pass is available for $175 person. Tables of 10 for the Celebrity Chef Dinner are available for $1,250, providing a savings of $250. For tickets and more information, visit www.nashvillelifestyles.com.