I pinned this "cake" a while back on Pinterest and I'm so glad I finally made it. This No-Bake Strawberry Icebox Cake is heavenly. It's seriously no bake. The "cake" is really graham crackers that have gotten soft thanks to the whipped topping and strawberries. It takes minutes to put together, but the willpower comes in having to wait four hours for the graham crackers to soften. As soon as the timer went off, I ate one piece…and then I immediately ate another.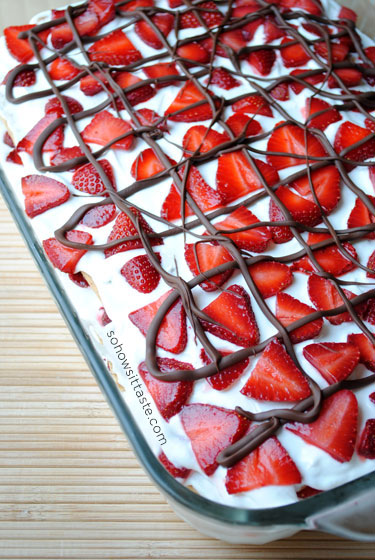 So, how's it taste?
I'm madly in love with this dessert. It's crazy simple, but it's out of this world good, especially when you use really ripe strawberries. It's almost like a strawberry s'more with the whipped topping acting like the marshmallow. It might sound odd to want a dessert made of soggy graham crackers, but it works. It really does turn into the texture of cake.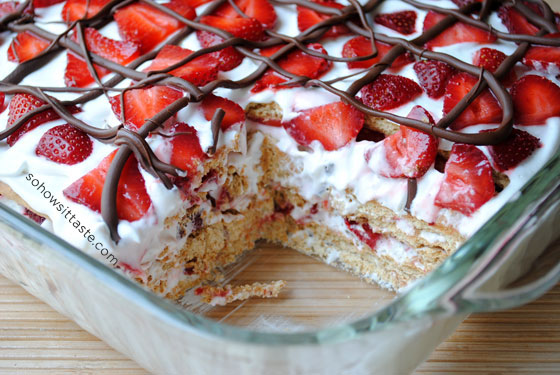 You could certainly make homemade whipped cream if you like, but I don't mind whipped topping from a tub and it's so easy (plus using fat-free makes me feel less guilty). I think the dessert could do without the chocolate drizzle on top. I do like the combination of chocolate and strawberry, but it's almost too heavy for this dessert. It's a really light and summery cake, so the chocolate isn't necessary. Good grief, I never thought I'd type that!
The dessert only lasts about three days and on the third day, it doesn't look very pretty with the strawberry juice starting to run through the whipped topping. It still tastes great, but if you're making this for an event, I'd make it ahead with just enough time to let the graham crackers get soft.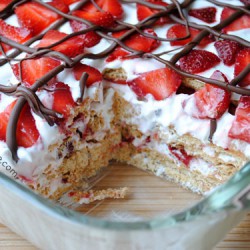 No-Bake Strawberry Icebox Cake
Ingredients:
3 lbs. fresh strawberries, sliced
2 (8 oz.) tubs fat-free whipped topping (or use regular or light)
1 (14.4 oz.) box graham crackers
1/4 cup milk chocolate chip morsels
Directions:
1. Spread a small amount of whipped topping on the bottom of a 9x13-inch baking pan. Place 5 graham cracker sheets down the middle and break 2 more sheets into crackers to fit down the sides. Lightly cover the top of the graham crackers with more whipped topping and then a layer of sliced strawberries. Repeat three times, until you have four layers of graham crackers (you may be a few crackers short on the top layer, but that's ok). You'll end with a layer of strawberries on top.
2. Place milk chocolate chip morsels in a plastic bag. Microwave in 10 second intervals until melted. Snip the end of the plastic bag and drizzle chocolate over top of cake.
3. Refrigerate covered for at least four hours, or until the crackers have softened completely. Cake will last well for two days. It will still be good on the third day, but the strawberries will start to get juicy and leak into the whipped topping. It will still taste good, but it won't be as pretty.