Oreo Biscotti
I don't know what it is lately, but I always seem to have Oreos in the house. While they're pretty tasty on their own, I like to make desserts out of them. So when I have a bunch in my pantry, I start thinking of different ways to bake them. Those cream-filled, chocolate sandwich cookies are just about as versatile in desserts as chocolate. Being a big fan of homemade biscotti, I thought I'd see how Oreo Biscotti would turn out. I was very happy with the result!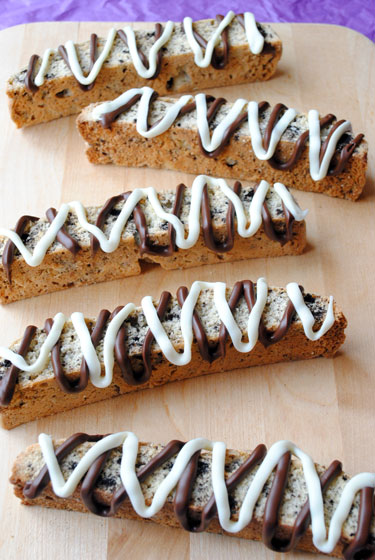 So, how's it taste?
These turned out really well. You can see the bits of Oreo throughout the biscotti, but flavor-wise it's not very heavy on Oreo at all. Actually the biscotti isn't that sweet, which is where the drizzle comes in. I ate a few of these without the drizzle and they were great. Dipped in coffee, it's the perfect amount of sweet. I do wish there was a more prominent Oreo flavor and perhaps the chunks could be a bit bigger, but I liked them regardless. I actually made these a few months ago and froze them without the drizzle on top. I finally added the white chocolate and milk chocolate drizzle and they went from good to down right sinful. What I found out, is yes, you can freeze biscotti, but they lose their hard-as-rock texture. Once they came to room temperature and the drizzle hardened, I found I could eat them like cookies. No need to dunk them in coffee or hot chocolate because they'd break a tooth otherwise. I don't know if I'd want to dunk them in a drink with that much drizzle anyway. I pretty much OD'd on them. The two kinds of chocolate on top made them crazy good. I had to pace myself so I'd have enough left to take a picture!
If you drizzle these right after they've cooled from baking, they'll be hard enough to withstand dunking. Otherwise try the freezing route if you want a softer, yet still crisp texture.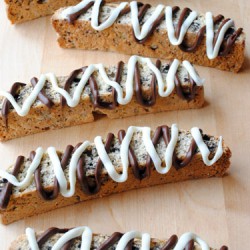 Oreo Biscotti
Ingredients:
1 cup sugar
1/3 cup butter, melted
3 eggs
2 tsp. vanilla extract
3 cups all-purpose flour
1 1/2 tsp. baking powder
1/4 tsp. salt
16 Oreo cookies, coarsely chopped
2 oz. milk chocolate morsels
2 oz. white chip morsels
Directions:
1. Beat sugar, butter, eggs, and vanilla in a large bowl with electric mixer at medium speed until blended. Add flour, baking powder, and salt. Fold in chopped Oreos.
2. Divide mixture in half. Shape each half into a 9x3-inch loaf on a lightly greased large baking sheet.
3. Bake at 350F for 25 to 30 minutes or until golden brown and a toothpick inserted in the centers comes out clean. Remove from oven and cool 10 minutes. Cut each loaf into 15 (1/2-inch thick) slices. Place slices cut side up on same baking sheet. Bake 10 to 12 minutes more on each side or until lightly toasted. Cool completely on wire racks.
4. Place each kind of morsel in a small freezer bag. Microwave in increments of 30 seconds until smooth. Snip the corner of the bag and drizzle tops with each kind of melted chocolate.