Granola Cookie Wedges
Don't you love when flipping through recipes, you stop on one and happen to have all the ingredients already? I feel like I've won the lottery when that happens. I try to keep a well-stocked pantry, especially for baking, so it's happening more and more these days. (If only the lottery win was happening, too!)  I'll settle for a batch of these Granola Cookie Wedges though!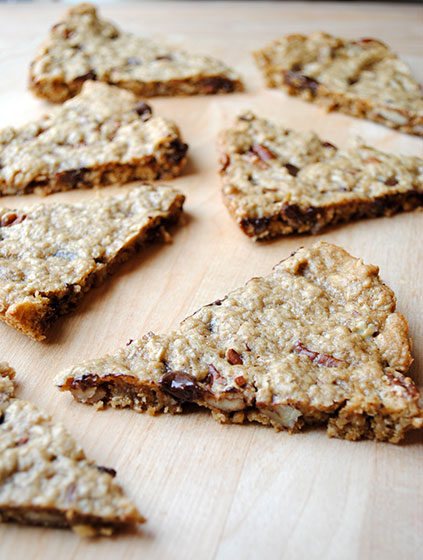 So, how's it taste?
ZOMG, heaven! You'd never believe these came out of Cooking Light magazine. At first, I flipped right on by them because they looked crispy in the picture and I'm not a crisp-cookie kind of person. I was itching to bake something last weekend, but didn't want anything too involved. I also wanted something I could work into my calorie counting, so I gave these a second look. I'm glad I did!
They're chewy and just the right amount of something sweet. Really just your basic oatmeal chocolate chip cookie, but I like that they're in wedges and they were much easier to make since you use a pie plate. Mix the ingredients in a bowl, dump into a pie plate, spread out, bake, and you've got cookies in no time. The recipe only makes eight, which is perfect so I won't be tempted like when there's two dozen cookies in the house.
I like the crunch of the pecans with the sweet bites of chocolate chips. I think some cinnamon would work in this recipe, too. I could also see changing up the combinations and doing a white chip/cranberry or butterscotch/walnut. This recipe is a keeper.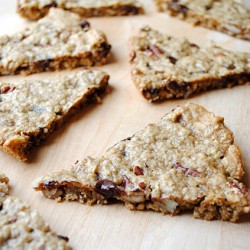 Granola Cookie Wedges
Ingredients:
1/3 cup packed dark brown sugar
2 tbsp. canola oil
1 tbsp. butter, melted
1/2 tsp. vanilla extract
1/4 tsp. salt
1/4 tsp. baking soda
1 large egg white
1/2 cup all-purpose flour
1/2 cup quick-cooking oats
1/4 cup chopped pecans, toasted
2 tbsp. semisweet chocolate chips
Cooking spray
Directions:
1. Preheat oven to 350F.
2. Combine first 7 ingredients (through egg white) in a large bowl; stir until well combined. Lightly spoon flour into a dry measuring cup; level with a knife. Add flour, oats, nuts, and chocolate chips to sugar mixture; stir until just combined.
3. Scrape the dough into a 9-inch glass pie plate coated with cooking spray, and spread to edges using a spatula. Bake for 13 minutes or until set. Cool slightly on a wire rack. Cut into 8 wedges.