Turkey and Brie with Spicy Peach Chutney
Whoa, stop the presses! This is not your basic turkey sandwich you just throw in a plastic baggie and call it lunch. This is a turkey sandwich gone wild! May I present the Turkey and Brie with Spicy Peach Chutney sandwich. Now we're talking lunch!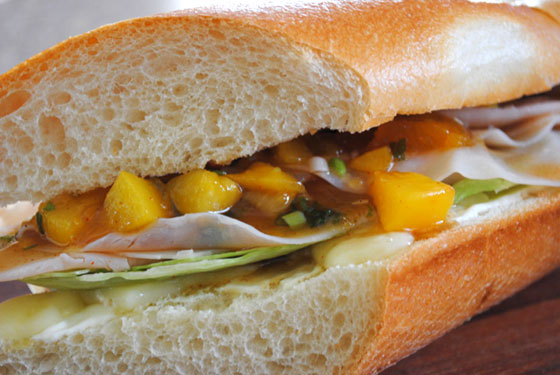 So, how's it taste?
Like a flavor party in my mouth! This definitely takes the ho hum out of your basic turkey and cheese sandwich. There are so many flavor combinations going on, and they all merge beautifully into one fantastic meal. I didn't even bother adding chips or any other side. I just wanted bite after bite of this and nothing else. The crunchiness of French bread, mixed with creamy, buttery Brie, add the taste of sweet peaches, and the tang of the balsamic vinegar and spicy cayenne in the chutney…whew! Being a condiment lover, I had the chutney spilling out over the sides. Forget about sitting at the table. I ate my sandwich over the kitchen sink, licking my fingers after every juicy bite!
Turkey goes so well with a variety of fruit and cheeses. I've made another version of this sandwich several times that is also a knockout. Use havarti instead of the brie, substitute cranberry sauce for the chutney, use an onion roll instead of French bread, and you've got another sandwich for a lunch you won't soon forget. The cheese/fruit variations are endless, and I'll absolutely keep making them!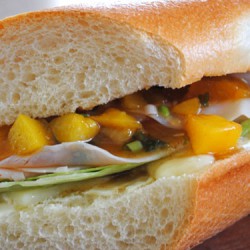 Turkey and Brie Sandwiches with Spicy Peach Chutney
Ingredients:
Chutney
1/3 cup peach preserves
1/2 cup chopped, peeled fresh peach
2 tsp. finely chopped green onions
1/2 tsp. balsamic vinegar
1/4 tsp. crushed red pepper flakes

Sandwiches
1/4 cup mayonnaise
4 (6-8 inch) crusty French rolls, split
4 leaves lettuce
8 oz. Brie cheese, cut into 1/4-inch thick slices
8 oz. sliced cooked turkey breast
Directions:
1. In small bowl, combine all chutney ingredients. Stir gently to mix.
2. Spread mayonnaise evenly on bottom halves of rolls. Top each with lettuce, cheese, turkey, and 2 tbsp. chutney. Cover with top halves of rolls.