Three-Cheese Pimiento Cheese
I haven't always been a fan of pimiento cheese spread. For whatever reason, I didn't care for it, but in the past few years I've given it another taste. I find the homemade versions are almost always the best. I made a lightened up version and used it in my Open-Faced Pimiento Cheese BLTs and loved it. Here's another lightened up version, but with a twist…Three-Cheese Pimiento Cheese. Cream cheese, cottage cheese, and Cheddar cheese. It had me at cream cheese.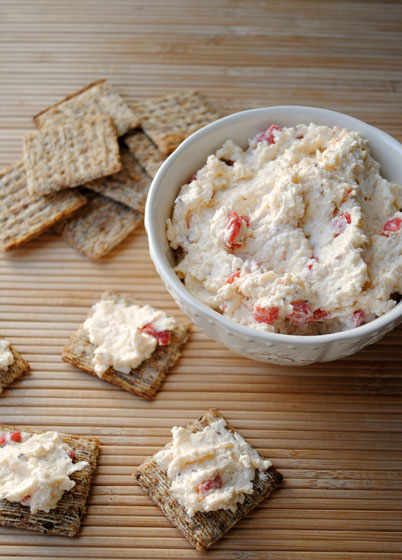 So, how's it taste?
I knew it would taste good, hey pretty much anything with a cream cheese base does. I was surprised that this quickly became my afternoon snack addiction. I could not put the crackers and pimiento cheese down! The crazy thing is, it's not too bad for you in the calorie department. No mayo in sight either. The recipe called for fat-free cream cheese, but I find that stuff is flavorless, so I went with reduced-fat instead. Blending it with the cottage cheese leaves a really smooth texture, so if cottage cheese gives you the heebie jeebies, don't turn your nose up just yet. The little bit of mustard, lemon juice, and grated onion are big players. Everything magically comes together to make what I think is one spectacular pimiento cheese. And I'm saying this about a recipe that includes reduced-fat products, right down to the Cheddar. Instead of hot sauce, I used Sriracha. I'm hooked on that flavor and it goes really well in this spread. I also used seasoning salt instead of regular, but if you don't have it, that's fine.
This would be a great appetizer. I tried it with Rye with Carraway Seeds Triscuits and it was fantastic. I wasn't kidding when I wrote I couldn't put the crackers down! My next move is to turn it into a grilled cheese. That might take away the "light" factor, but oh can you imagine that melted cheese with all that flavor!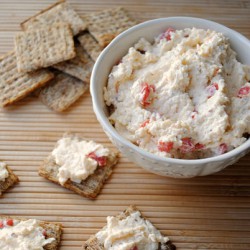 Three-Cheese Pimiento Cheese
Ingredients:
8 oz. reduced-fat cream cheese, softened
1/2 cup low-fat cottage cheese
4 oz. jar diced pimiento, drained
2 tsp. coarse-grained mustard
2 tsp. finely grated onion
1 tsp. lemon juice
dash of hot sauce (I used 2 tsp. Sriracha)
8 oz. reduced-fat sharp white Cheddar, shredded
seasoning salt & freshly ground black pepper to taste
Directions:
1. Process cream cheese and cottage cheese in a food processor until smooth. Stir in pimiento, mustard, onion, lemon juice and hot sauce.
2. Stir in Cheddar. Season with seasoning salt and pepper to taste.