Spicy Chicken Caesar Salad
I struggled a bit with this recipe being named Spicy Chicken Caesar Salad. Although it's very good (after some tweaking from the original), it's not going to taste like what you'd find in your favorite restaurant. Caesar salad has to be one of the worst salads, calorie-wise, you can order. Which is unfortunate because it's one of my weaknesses when dining out. I didn't want to reinvent the wheel, so I stuck with the name (Patti calls it Cajun Chicken Caesar). After dressing it up a bit from her version, I made it much, much tastier and heartier so it's more of a main dish.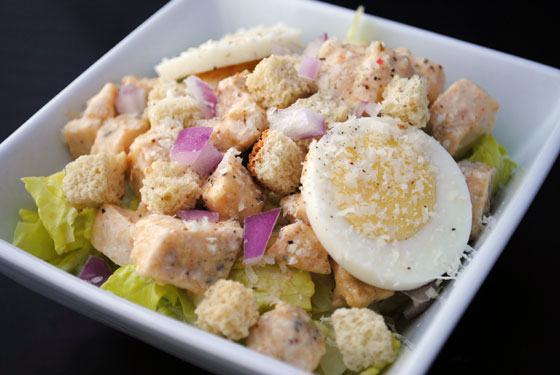 So, how's it taste?
I hadn't eaten this salad in quite a few years, but thought it was worth revisiting and I'm glad I did. The flavors are close to an original Caesar, but with a spin. It's cleaner, lighter, and has a spicy kick! The original recipe needed a lot of help. It was pretty flavorless, but I liked the concept of a light salad. I doubled the dressing, added red onions, hard-boiled eggs, and croutons. It upped the calories, but made it a meal I could eat without being hungry 30 minutes later. Feel free to add your own flavor enhancers as well. Chopped black olives are tasty additions!
Although it's low in calories, my version has 23 grams of fat. You could reduce the amount of oil in the dressing to your liking and cut down on the fat calories. I like to mix my dressing and leave it in a separate container so I can make one salad at a time. This salad also works well as a wrap or in a pita.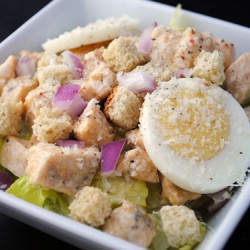 Spicy Chicken Caesar Salad
Ingredients:
Chicken
1 tbsp. Cajun seasoning
1 tsp. poultry seasoning
dash salt and pepper
4 6 oz. boneless, skinless chicken breast halves
Salad
6 tbsp. extra-virgin olive oil
6 tbsp. fresh lemon juice
1/4 cup reduced-sodium chicken broth or water
1/4 cup reduced-fat sour cream
2 tsp. Dijon mustard
1 1/2 tsp. red pepper sauce (I used Sriracha)
1 head romaine lettuce
6 tbsp. finely chopped red onion
4 tbsp. grated Parmesan
3/4 cup fat-free seasoned croutons
6 hard-boiled eggs, sliced
Directions:
1. To make the chicken, preheat the oven to 375. Coat a baking sheet with fat-free cooking spray. In a small bowl, mix together the Cajun seasoning, poultry seasoning, salt, and pepper. Sprinkle seasonings evenly over both sides of the chicken breasts.
2. Place on prepared baking sheet and bake until an instant-read thermometer registers 160F and juices run clear, about 25 to 30 minutes. Remove from oven, let chicken cool. Chop into bite-sized chunks.
3. To make the salad, in a large bowl, combine the oil, lemon juice, broth, sour cream, mustard, and red pepper sauce. Or you can make the salad dressing in a glass jar and use less or more to your liking.
4. Tear the lettuce into bite-sized pieces, toss with the red onions, Parmesan, croutons, chicken, and salad dressing to coat evenly. Add slices of hard-boiled egg. Divide into 6 servings.
*Note: This is also great in a wrap or pita.