Skillet Buttermilk Biscuits
As a born and raised Southerner, I feel it's my duty to be able to make biscuits from scratch. I attempted a lightened version of biscuits two years ago, and they were a big flop. You should never, ever, ever, ever try to lighten biscuits. It's just one of those things where you go big or go home, and by going big I mean use all the butter! I love any excuse to pull out my cast-iron skillet, so when I saw this recipe for Skillet Buttermilk Biscuits, I knew I was ready to give them another try.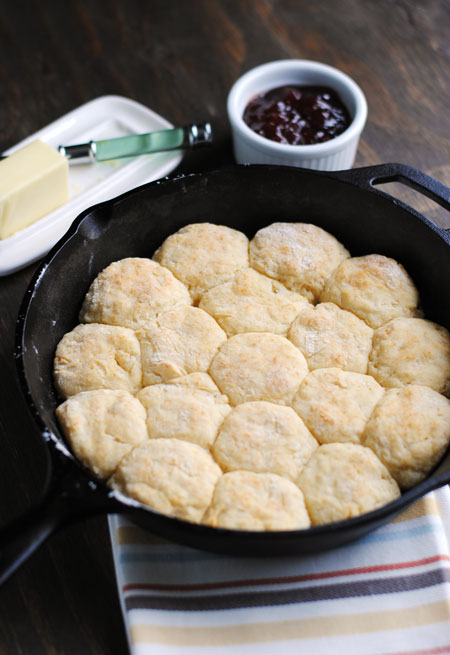 So, how's it taste?
I didn't realize I'd be making tiny biscuits, but they did not disappoint in the flavor department! These aren't the type of biscuits you're going to sandwich around sausage or hot chicken, but they are fantastic with butter and jam. The first batch I made didn't rise much and I figured out it was due to old baking soda. They still tasted good, so I had no problem devouring them.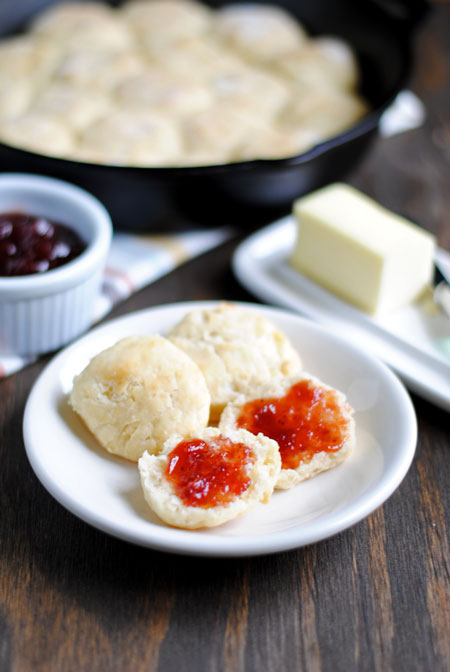 My second batch rose much better, but they still aren't going to be huge biscuits. I ended up with more biscuits than the recipe states. I used a smaller skillet, but a bigger biscuit cutter, and ended up with about 26 biscuits. I've always been scared of working the dough too much, so I barely handled it for the first cut of biscuits. Those were the ones that went in the skillet. Then you take the scraps and work them into dough you can cut again. Those biscuits I cooked on a baking sheet. I actually preferred the ones from the baking sheet the best. Their texture was a bit smoother and the bottoms crispier.
I think I can officially say I can make biscuits from scratch now! Although I do want to try to make the bigger ones soon. Biscuit testing isn't a bad gig!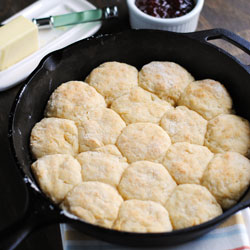 Yield: about 20 biscuits
Total Time: 40 min
Skillet Buttermilk Biscuits
Ingredients:
1 stick cold unsalted butter, cubed, plus more for greasing
2 cups all-purpose flour, plus more for dusting
4 tsp. baking powder
1 tsp. kosher salt
1/4 tsp. baking soda
1 1/4 cups cold buttermilk
Directions:
1. Preheat oven to 450F and butter a 12-inch cast-iron skillet. In a large bowl, whisk the 2 cups of flour with the baking powder, salt, and baking soda. Add the cubed butter and, using your fingers or a pastry blender, pinch the butter into the flour until the mixture resembles very coarse crumbs, with some of the butter the size of small peas. Gently stir in the buttermilk just until a soft dough forms.
2. Scrape the dough out onto a lightly floured work surface and pat it into a 3/4-inch-thick round. Using a 2-inch round biscuit cutter, stamp out biscuits as close together as possible. Gently press the scraps together and stamp out more biscuits. Arrange the biscuits in the prepared skillet and bake for 12 to 14 minutes, until golden brown. Serve warm.