Shrimp Salad Rolls
Talk about an easy, satisfyingly delicious dinner to prepare. I really enjoyed these Shrimp Salad Rolls. One look in Cooking Light and I knew I'd be making them. A bun piled high with plump shrimp, mixed with mayo and fresh herbs. If you're low on time, these will fit into any hectic schedule.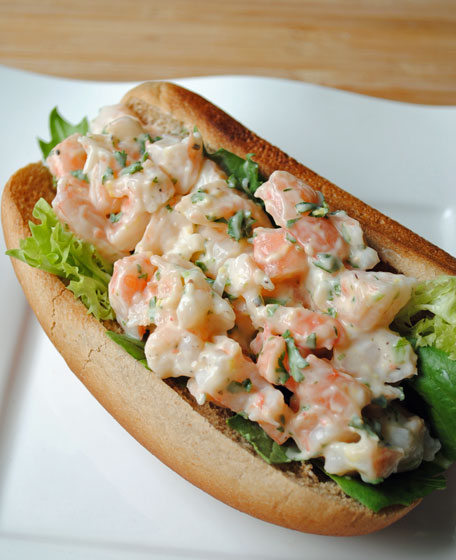 So, how's it taste?
Very light and refreshing. I loved the chunks of shrimp and using reduced-fat mayo tamed that rich, heavy taste that regular mayo can have. The fresh herbs and lemon are what make the salad. I think I would've liked a tad bit more lemon, too. Fresh parsley has so much more flavor than its dried version. It's almost lemony itself and brings such a wonderful freshness. Tarragon is also amazing fresh. It's got a slight licorice taste, but don't let that turn you off. I don't like licorice, but I love fresh tarragon in chicken salad, pastas, and now this shrimp salad.
By using reduced-fat mayo and reduced-calorie buns (I prefer Healthy Life brand), I lowered the calorie count way down to 190 per serving! I found I was satisfied just having this roll for a light lunch, but the calories are so low, feel free to pair it with a salad, veggies, or fruit to make a heartier meal.
Shrimp Salad Rolls
Ingredients:
1 tbsp. butter
20 large shrimp, peeled and deveined (about 1 lb.)
1/4 cup reduced-fat mayonnaise
1 tsp. grated lemon rind
1 tbsp. fresh lemon juice
2 tsp. chopped fresh parsley
1 1/2 tsp. chopped fresh tarragon
1/2 tsp. freshly ground black pepper
1/4 tsp. kosher salt
4 (1 1/2-oz.) reduced-calorie hot dog buns
Lettuce
Directions:
1. Preheat broiler to high.
2. Heat butter in a large nonstick skillet over medium-high heat; swirl to coat. Add shrimp to pan; sauté 4 minutes or until done. Place shrimp on a large plate; chill in refrigerator for 10 minutes. Coarsely chop shrimp. Combine chopped shrimp, mayonnaise, and next 6 ingredients (through salt) in a large bowl.
3. Open buns without completely splitting; arrange, cut sides up, on a baking sheet. Broil 1 minute or until toasted. Place 2 lettuce leaves in each bun; top each serving with 1/2 cup shrimp mixture.