Ranchero Corn
I'm pretty sure I've mentioned our running joke about always having corn in the house, so whenever someone says "What are we eating with it?" the joke is always "Corn!" Ok, maybe you have to be there. 🙂 I was looking for a side for our 4th of July menu and saw this Ranchero Corn recipe and instantly knew I wanted it. It furthers our joke and it has bacon AND ranch dressing. My mouth was watering just thinking about it. I love it when you look forward to a side as much as the main dish. I also wanted something really simple to put together so I could spend more time enjoying the festivities and not cooking.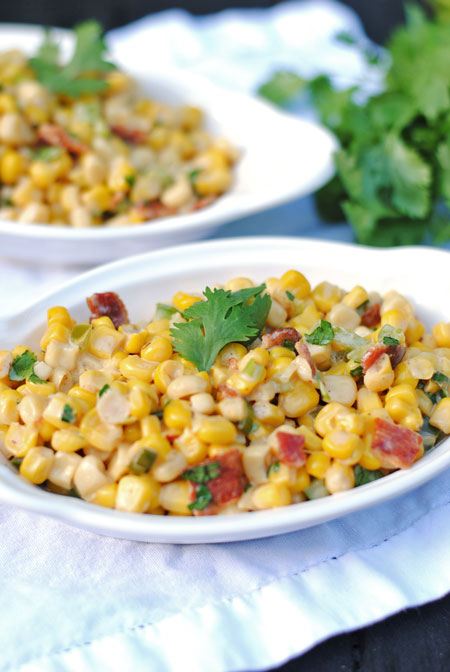 So, how's it taste?
I really liked it, but next time I'll make a few tweaks. The first thing we noticed is it's way too spicy. It only has 1/4 teaspoon of red pepper flakes in the entire batch, but it was too much. It overpowered the bacon even! Huge no-no. I like a bit of kick in my food, but not that much. I think a great alternative would be to use less and substitute ground cayenne pepper. Keep the heat, but tone it down a bit. Now the spice probably overpowered the ranch as well, but I feel like using the powdered dressing mix would've worked much better to amp up that flavor. I'm a big fan of ranch and it got a little lost in here with everything going on. I think using the dressing mix with a bit of sour cream instead of the bottled version would make this corn so much better.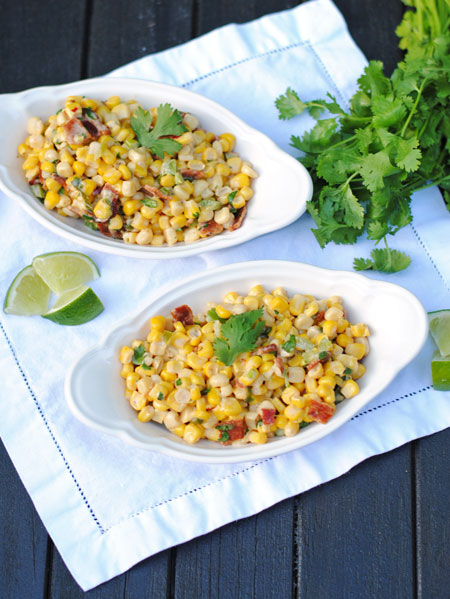 Once I got used to the spice, I absolutely loved it. Crunchy, chunky, and creamy freshened up with lime and cilantro. I used green bell peppers in mine, but red or orange would be really pretty in this dish, too. The corn holds up great as leftovers. I even had a meal or two that was just the corn!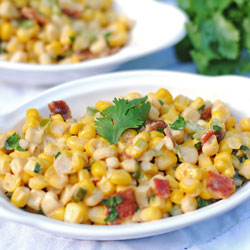 Yield: 6 servings
Prep Time: 35 min
Ranchero Corn
Ingredients:
1/4 lb. mesquite-smoked or regular bacon, cut into small pieces
1/4 cup sliced green onions
1/4 cup chopped bell pepper
2 (11 oz.) cans sweet yellow and white corn, drained
1/4 cup ranch dressing
1 tsp. fresh lime juice
1/2 tsp. cumin
1/4 tsp. crushed red pepper flakes*
1 tbsp. chopped fresh cilantro
*Leave this out or use less if you don't want it spicy.
Directions:
1. Cook bacon in large skillet over medium heat until crisp. Drain on paper towels. Discard drippings.
2. In same skillet, combine cooked bacon, onions, bell pepper, and corn. Reduce heat to low; cook 5 minutes or until thoroughly heated, stirring occasionally.
3. Meanwhile, in small bowl, combine salad dressing, lime juice, cumin, and red pepper flakes; mix well.
4. Add dressing mixture to corn mixture; mix well. Remove skillet from heat. Stir in chopped cilantro.
per 2/3 cup serving: 150 calories, 9g fat, 13g carbs, 2g fiber, 3g protein