Pumpkin Chocolate Chip Sandwiches
These are the cutest, yummiest, bite-sized cookies. I made these Pumpkin Chocolate Chip Sandwiches for a game-watching night and received rave reviews. Careful though, their small size makes you think you're not eating much, but they are so good you can't stop! The base is prepared cookie dough, so they are cinch to make. The added pumpkin and spices make ordinary chocolate chip cookies phenomenal.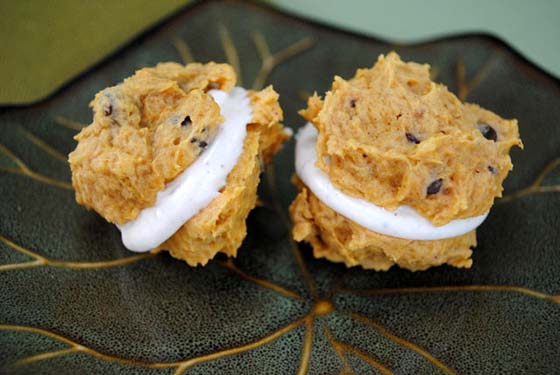 So, how's it taste?
These are so good you'll have a hard time not eating the entire batch. I've said it before, but I love the combination of pumpkin and chocolate. Those two were meant for each other. The chocolate chip cookie base mixed with sweet pumpkin and pumpkin pie spice is perfect. Instead of using plain cream cheese frosting, I added pumpkin pie spice to mine to really amp up the flavor. It was incredible. If you're looking for something easy to make that will please a crowd, give these a try. You won't regret it!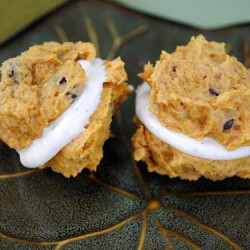 Pumpkin Chocolate Chip Sandwiches
Ingredients:
1 cup solid-pack pumpkin
1 package (18 oz.) refrigerated chocolate chip cookie dough
3/4 cup all-purpose flour
1/2 teaspoon pumpkin pie spice
1/2 cup prepared cream cheese frosting*
*Jazz up the frosting by adding 1/2 teaspoon of pumpkin pie spice!
Directions:
1. Line colander with paper towel. Place pumpkin in prepared colander; drain about 20 minutes to remove excess moisture.
2. Preheat oven to 350°F. Grease cookie sheets.
3. Remove dough from wrapper; place in large bowl. Let dough stand at room temperature about 15 minutes.
4. Add pumpkin, flour and pumpkin pie spice to dough in bowl; beat at medium speed of electric mixer until well blended.
5. Drop dough by teaspoonfuls onto prepared cookie sheets. Bake 9 to 11 minutes. Cool on cookie sheets 3 minutes; remove to wire racks to cool completely.
6. Place about 1 teaspoon frosting on flat side of cookie; top with second cookie. Repeat with remaining cookies and frosting.