Pork Chops with Roasted Apples & Onions
The picture of these Pork Chops with Roasted Apples & Onions was drool-worthy in the magazine. My interest will instantly go up for a recipe that has an odd mix of ingredients, too, so I had to make this to see how the apples and onions turned out.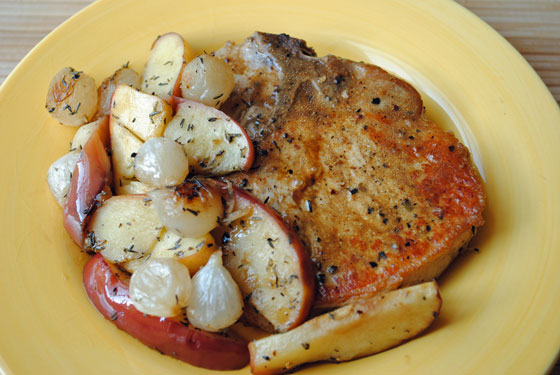 So, how's it taste?
Well, let me start with the positive. The pork chops were awesome. Like the kind of awesome that I'll make that part of this recipe with the sauce again and again. I've said before how a bone-in pork chop seasoned with nothing more than salt and pepper is divine. Normally I'm big on spices and tons of different flavors, but not when it comes to pork chops. Salt and pepper only please! I do love a good sauce though. The sauce in this dish is fantastic and lets the pork chops keep the spotlight. It's pretty easy to make after cooking the chops. Now for the negative. The roasted apples and onions weren't good. There was way too much thyme in the mixture and cooking them in the oven dried everything out. It left the apples with a slight mealy texture and the onions were ok once you peeled off the top layer, but who wants to do that to all those pearl onions? The flavors never came together either. It was a separate taste of apple and then a separate taste of onion. I usually never waste food, but I ended up picking out the apples and tossing them in the trash.
So for a great pork chop and sauce, I recommend this, but definitely skip the apples and onions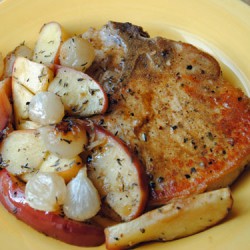 Pork Chops with Roasted Apples & Onions
Cooking Light, September 2012
makes 4 servings (one serving: 1 chop, 3/4 cup apple mixture, 1 tbsp. sauce)
per serving: 240 calories, 10g fat, 11g carbs, 1.5g fiber, 24.9g protein
Ingredients:
2 1/2 tsp. canola oil, divided
1 1/2 cups frozen pearl onions, thawed
2 cups Gala apple wedges
1 tbsp. butter, divided
2 tsp. fresh thyme leaves
1/2 tsp. kosher salt, divided
1/2 tsp. freshly ground black pepper, divided
4 (6 oz.) bone-in center-cut pork loin chops (about 1/2 inch thick)
1/2 cup fat-free, lower-sodium chicken broth
1/2 tsp. all-purpose flour
1 tsp. cider vinegar
Directions:
1. Preheat oven to 400°.
2. Heat a large ovenproof skillet over medium-high heat. Add 1 teaspoon oil to pan; swirl to coat. Pat onions dry with a paper towel. Add onions to pan; cook 2 minutes or until lightly browned, stirring once. Add apple to pan; place in oven. Bake at 400° for 10 minutes or until onions and apple are tender. Stir in 2 teaspoons butter, thyme, 1/4 teaspoon salt, and 1/4 teaspoon pepper.
3. Heat a large skillet over medium-high heat. Sprinkle pork with remaining 1/4 teaspoon salt and 1/4 teaspoon pepper. Add remaining 1 1/2 teaspoons oil to pan; swirl to coat. Add pork to pan; cook 3 minutes on each side or until desired degree of doneness. Remove pork from pan; keep warm. Combine broth and flour in a small bowl, stirring with a whisk. Add broth mixture to pan; bring to a boil, scraping pan to loosen browned bits. Cook 1 minute or until reduced to 1/4 cup. Stir in vinegar and remaining 1 teaspoon butter. Serve sauce with pork and apple mixture.