Mocha Cake
Oh I can't gush enough about this cake. If you're a fan of chocolate and coffee together, you are going to love this Mocha Cake. The texture is so unique and that's one of the reasons why I love it. The entire cake is 12 servings and that may look a little small, but the flavor is so intense and rich, that's all you need. You'll never believe this cake came from a dieting cookbook! One slice is only 156 calories and that includes the dollop of whipped topping and fresh berries!
So, how's it taste?
It's fantastic! It's the perfect sweet ending to any meal. If you're like me, my dinner isn't complete without a bite of something sweet. Which gets me into trouble a lot, but not with a slice of this Mocha Cake. It's very figure friendly! The texture is almost sponge-like, yet dense at the same time. It's light and airy, but rich at the same time. It melts in your mouth with an intense chocolate flavor and then a hint of coffee. I think the coffee helps it have a deeper chocolate flavor. You can certainly leave it out if that's not your thing, but I highly recommend keeping it in. If you want a more pronounced coffee flavor, use espresso powder instead of instant coffee granules. Either way, you are going to love this cake.
This cake came out of the New Dieter's Cookbook
. This is one of my favorite cookbooks for when I want lower calorie meal options. It's binder style, so you can take out the pages while you're following a recipe instead of dealing with the entire book. It's organized really well and has pictures of all the recipes, which is a huge plus for me!
Other great recipes from this cookbook:
Dark Chocolate Souffles (140 calories)
Garlic & Mint Chicken (202 calories)
Ginger Spiced Chicken (332 calories)
Lamb & Bulgur Burgers (249 calories)
Quick Stromboli (206 calories)
Roast Beef Sandwich with Horseradish Slaw (315 calories)
Spicy Skillet Pork Chops (330 calories)
Sweet Onion & Spinach Burgers (281 calories)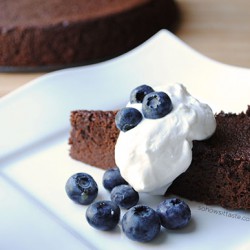 Yield: 12 servings
Prep Time: 25 min
Cook Time: 30 min
Mocha Cake
Ingredients:
cooking spray
3/4 cup sugar
1/2 cup water
1 tbsp. instant coffee granules
3 oz. semisweet chocolate, chopped
2 egg yolks
1 tsp. vanilla
1/2 cup cocoa powder
1/3 cup all-purpose flour
5 egg whites
1/2 of an 8 oz. container light whipped topping (such as Cool Whip)
1 1/2 cups fresh berries
Directions:
1. Preheat oven to 350F. Lightly coat a 9-inch springform pan with cooking spray; set aside.
2. In a medium saucepan, stir together sugar, water, and coffee granules. Cook and stir over medium-low heat until the sugar dissolves. Stir in the chocolate until melted. Remove from heat.
3. Place egg yolks in a small bowl. Gradually stir the chocolate mixture into egg yolks; stir in vanilla (mixture may appear slightly grainy). Set aside.
4. In a medium bowl, stir together the cocoa powder and flour. Stir in the melted chocolate mixture until smooth. In a large mixing bowl, beat egg whites with an electric mixer on medium speed until stiff peaks form (tips stand straight).
5. Stir a small amount of the beaten egg whites into the chocolate mixture to lighten. Fold chocolate mixture into remaining egg whites. Pour into the prepared pan.
6. Bake about 30 minutes or until the top springs back when lightly touched. Cool in pan on wire rack for 10 minutes. Loosen sides with a knife and remove side of pan. Cool cake completely.
7. To serve, cut cake into wedges. Top with whipped topping and berries.
per serving: 156 calories, 5g fat, 25g carbs, 2g fiber, 4g protein
Source: New Dieter's Cookbook
This post contains affiliate links.