Italian Shrimp Stir-Fry
I know it sounds weird to pick a recipe for dinner and not have high expectations. Shouldn't every recipe attempt to be spectacular? I picked this Italian Shrimp Stir-Fry because I was curious about the Italian twist on stir-fry, but it didn't seem to have a lot of ingredients to give me a wow factor in flavor. Boy, was I ever wowed after taking the first bite!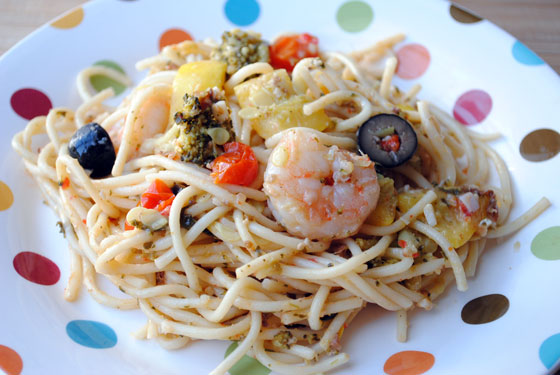 So, how's it taste?
Never underestimate the power of pasta to soak up any liquid. I was really worried that this dish would taste bland, like noodles and veggies and that's it. What a difference a little Italian dressing and lemon peel makes! The original recipe calls for linguine, but I had thin spaghetti on hand and used that instead. I couldn't believe how delicious this stir-fry turned out. It actually had a creamy texture to it. The broccoli and shrimp take on a lot of the dressing and give big time flavor. It's not really the flavor of Italian dressing if you poured it on a salad, but somehow becomes a bit sweeter and the lemon peel really brightens the dish. The two flavors work together like magic and oh that fresh basil! Don't skip out on that. I usually prefer green olives to black ones, but they work best in this dish. I think green would have made it too salty.
My only complaint is I used grape tomatoes and didn't like the texture. The peel separated and when I ate a bite with the peel, it felt like I was chewing on paper. I think I'll try the bigger cherry tomatoes, or cutting a roma tomato next time I make this dish.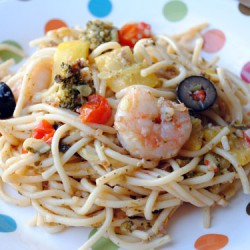 Italian Shrimp Stir-Fry
Betty Crocker
makes 4 servings
per serving: 310 calories, 8g fat, 45g carbs, 4g fiber, 19g protein
Ingredients:
8 oz. uncooked linguine or other pasta (I used thin spaghetti)
3/4 cup reduced-calorie Italian dressing
1 1/2 tsp. grated lemon peel
3 cloves garlic, finely chopped
3/4 lb. fresh or frozen (thawed) uncooked medium shrimp, peeled & deveined
3 cups broccoli florets (can use frozen)
1 medium yellow squash (1 1/2 cups), cut lengthwise in half, then cut crosswise into slices
2 tbsp. water
8 cherry or grape tomatoes, cut in half
12 extra-large pitted ripe olives, cut in half
1/4 cup chopped fresh basil leaves
Grated Parmesan, if desired
Directions:
1. Cook and drain pasta as directed on package; keep warm.
2. Spray a large nonstick skillet with cooking spray; heat over medium-high heat. Add shrimp; stir-fry about 2 minutes or until shrimp are pink and firm. Remove shrimp from skillet.
3. Spray skillet again with cooking spray; heat over medium-high heat. Add broccoli and squash; stir-fry 1 minute. Add water. Cover and simmer about 3 minutes, stirring occasionally, until vegetables are crisp-tender (add water if necessary to prevent sticking). I stir-fried mine about 2 minutes longer because I prefer my broccoli stems more tender than crisp.
4. Stir in dressing, lemon peel, and garlic; cook 30 seconds. Stir in tomatoes, olives, basil, shrimp, and pasta; stir-fry until hot. Sprinkle with cheese, if desired.