Hard Apple Cider Croque Monsieur
I'm really excited to share this recipe for Hard Apple Cider Croque Monsieur. I have no idea what made this pop into my head as a good way to cook with Crispin Cider, but I'm glad it did. I'm madly in love with the Croque Monsieur/Croque Madame sandwich. It's a fancy ham and cheese that's grilled and then topped with a decadent cheese sauce. The madame version also gets topped with a runny egg. Be still my beating heart! I wanted to take this showstopper to another level and thought apples would pair perfectly with the Gruyere and ham. I'm happy to report it worked!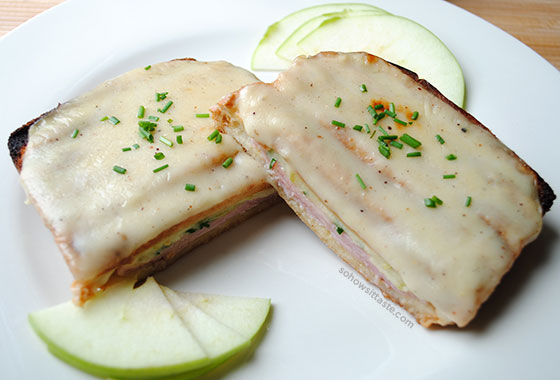 So, how's it taste?
If you read my previous post on the Blackberry Pear Cider Arnold Palmer, you learned my friend Alexandra from Sweet Betweens and I developed a few recipes using Crispin Cider. We started with drinks and thought it would be fun to cook with them in a savory dish. I took one of my favorite sandwiches and incorporated apples and cider everywhere I could to really highlight their flavor. The result was a complete success! I added the cider to the creamy cheese sauce and to the Dijon mustard. It's very subtle, but you can taste how the cider lightens up the flavor and feel of this heavy, rich sandwich. I also added very thin slices of Granny Smith apples which provided a nice crunch and further highlighted the fruit. The croque monsieur is still just as decadent, but the apple cider gave it a summery twist.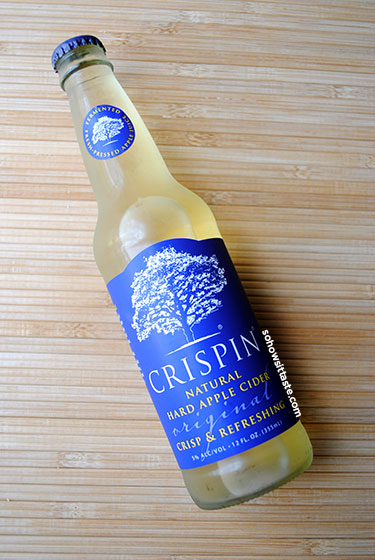 Another bonus? Leftover cider to sip while you wait for your sandwich to cook! We hope you enjoy Crispin as much as we did!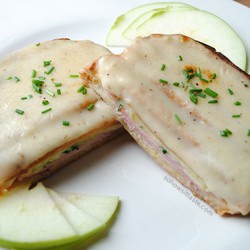 Hard Apple Cider Croque Monsieur
basic croque monsieur from Panini by Melanie Barnard
concept by Leah Short for So, How's It Taste?
makes 2 sandwiches (sauce makes enough for four)
Ingredients:
Cheese Sauce
2 tbsp. unsalted butter
2 tbsp. all-purpose flour
2 tsp. Dijon mustard
1/4 tsp. grated nutmeg
salt & freshly ground black pepper
1/2 cup whole milk (also works well with skim)
1/2 cup Hard Apple Cider such as Crispin
1/4 cup shredded Gruyere cheese
Sandwiches
Classic White Bread (or French or other country-style), 4 slices, 1/2-inch thick
1 tbsp. unsalted butter, melted
1 tbsp. Dijon mustard
1 tsp. Hard Apple Cider such as Crispin
1/4 lb. Gruyere cheese, thinly sliced
3 oz. Black Forest ham, thinly sliced
2 tsp. fresh chives, snipped
1 apple, very thinly sliced (I used Granny Smith)
2 fried eggs, optional for Croque Madame
Directions:
1. To make the cheese sauce, in a small saucepan, melt the butter over medium heat. Add the flour and cook, whisking, for 1 minute to make a smooth paste. Stir in the mustard, nutmeg, and salt and pepper to taste, then slowly whisk in the milk and cider. Cook, whisking, until the sauce comes to a boil and thickens, about 2 minutes. Remove the pan from the heat and stir in the shredded cheese until melted. Keep warm until ready to use.
2. Preheat the sandwich grill. Place the bread slices on a work surface and brush 1 side of each with the melted butter. Mix the dijon mustard and the cider. Turn and spread the unbuttered side with the cider mustard. On each of 2 of the bread slices, mustard sides up, layer one-fourth of the cheese, half of the ham, half of the chives, and several slices of the apple. Top with the remaining cheese on each. Place the remaining 2 bread slices on top, mustard sides down, and press to pack gently.
3. Place the panini in the grill, close the top plate, and cook until the bread is golden and toasted and the cheese is melted, 3-5 minutes. Meanwhile, preheat the broiler. Transfer the finished panini to a small baking sheet. Spoon the sauce over the sandwiches, then place under the broiler 3-4 inches from the heat source. Broil, watching carefully to prevent burning, until the sauce is bubbly and flecked with brown, about 1 minute. Transfer to plates and serve right away. Optional, top sandwiches with a fried egg just before serving for the Croque Madame.
Disclosure: Crispin Cider sent complimentary ciders at our request to sample and use in recipes. I was not compensated for these recipes and all opinions, as always, are my own.