Goat Cheese Mashed Potatoes
Oh mashed potatoes how I love thee! I've eaten a huge bowl of mashed potatoes and called it dinner on many a night. Not because I was too lazy to make something or there was nothing in the house, but because they are delicious and versatile. Add any kind of cheese, herbs, even ranch dressing and it's pretty much the best thing ever. I made these Goat Cheese Mashed Potatoes for Thanksgiving and they were the star of the show. You know why? Because they are the exact opposite of anything healthy. Goat cheese, butter, sour cream, and milk. You could use half-and-half or cream for the milk, but I had to draw the line somewhere! 😉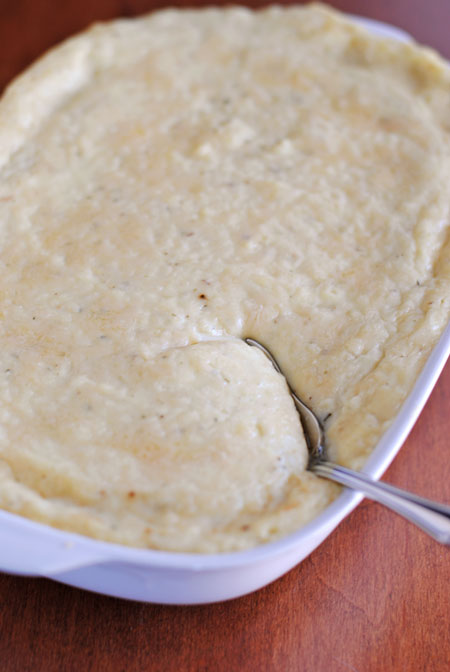 So, how's it taste?
I loved them! This was the leftover side that I was most craving after the big meal. Several times I scooped out a plateful of mashed potatoes and nothing else. The recipe needs some adjusting on the salt though. They were very salty, but fortunately not so much that we couldn't eat them. I've adjusted the recipe below to make it salt to taste. Despite that, they were still phenomenal. They really are quite indulgent with a half pound of goat cheese with herbs, plus real sour cream, plus real butter, plus milk, plus Parmesan. If you're a fan of goat cheese, you will crave these like I am now!
The mixture will seem really thin before you bake it, but it will thicken as it bakes and sets. The leftovers were thicker and I much preferred that consistency. You can make these ahead and bake the next day. Make sure you bake them in a large enough pan as they expand. Mine was a little too small and some potato-y goodness fell out. Trust me, you don't want to lose one bite of these!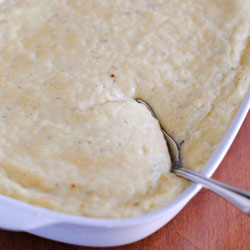 Yield: 6 to 8 servings
Prep Time: 20 min
Cook Time: 55 min
Goat Cheese Mashed Potatoes
Ingredients:
3 lbs. large Yukon gold potatoes, peeled and cut in 3/4-inch chunks
5 large garlic cloves
1 tbsp. salt
Kosher salt and freshly ground black pepper
7 to 8 oz. garlic-and-herb goat cheese, at room temperature
4 tbsp. (1/2 stick) unsalted butter, at room temperature
1 1/2 cups sour cream
1/2 cup half-and-half or milk (I used skim milk)
2 tsp. freshly ground black pepper
salt, to taste
1/2 cup freshly grated Parmesan cheese
Directions:
1. Preheat the oven to 375 degrees F. Place the potatoes, garlic, and 1 tablespoon salt in a large pot with enough water to cover the potatoes. Bring to a boil over high heat, reduce to a simmer and cook for 20 to 25 minutes, until very tender.2. Drain the potatoes and garlic and process them together through a food mill fitted with the coarsest blade set on top of a bowl. (I used a potato masher.) While the potatoes are still hot, stir in the goat cheese, butter, sour cream, half-and-half or milk, and 2 teaspoons pepper until smooth. Add salt to taste.3. Pour the mixture into a 9-by-12-by-2-inch oval baking dish, smoothing the top. Sprinkle the Parmesan on top and bake for 30 to 40 minutes, until lightly browned. Serve hot.