Curried Green Lentil Soup
All I'm craving lately is soups, stews, and chilis. It might have something to do with the massive amounts of cornbread I made last week (see Bacon-Scallion Cornbread) or it's just that time of year. A big pot of something awesome cooking on the stove and I'm set. I had a lot of green lentils in my pantry, so I slightly altered a recipe using red lentils and came up with Curried Green Lentil Soup. It's pretty amazing, but won't win any beauty awards. It will, however, win first place in the comfort food category.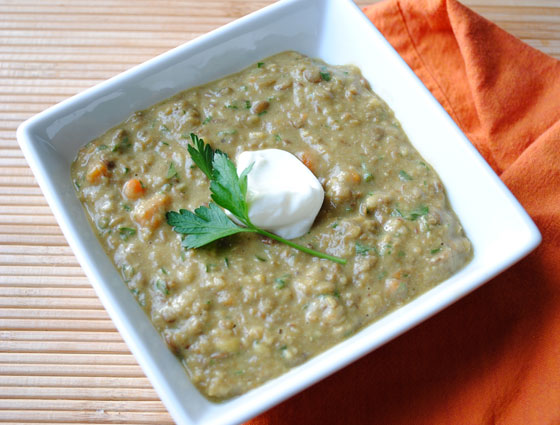 So, how's it taste?
I had a feeling it would be pretty good, but it really blew me away. It's probably the ugliest soup, but who cares when it tastes that good?! It starts with finely chopped ginger, shallots, garlic, and carrots. You'll want to make sure you chop them finely as some will remain in chunks and the rest will get blended. You don't want a huge chunk of ginger on your spoon. I wanted my soup thicker and chunkier than the original recipe, so I used an immersion blender instead of a regular blender. The regular blender will produce a smoother consistency, but the soup still has chunks for texture. You could blend the entire batch if you wanted a smooth, creamy texture instead.
The starting ingredients are fragrant enough, but once the curry powder hits, I couldn't wait for it to be ready. Curry powder adds a hint of heat and it's so buttery and rich to me. The coconut milk didn't add as much to the overall flavor of the soup as I would have liked, but it's needed for creaminess. I think you might be able to substitute milk or cream if you didn't want to bother with it. The end result was fabulous, except for the not-so-appetizing color. I finished my serving with a dollop of sour cream. You could also use yogurt instead. The recipe calls for cilantro, but you'll notice that's parsley in my picture. I didn't pay attention at the grocery store and bought parsley instead. It actually worked really well, so if you're a cilantro hater, go the parsley route. I'm a cilantro lover, so I imagine this soup would have knocked my socks off even more if I'd learn to read herb labels. 🙂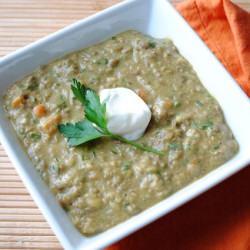 Curried Green Lentil Soup
Ingredients:
2 tsp. olive oil
3 tbsp. finely chopped peeled ginger (from a 2-inch piece)
6 garlic cloves, finely chopped (2 tbsp.)
1 large shallot, finely chopped (4 tbsp.)
2 carrots, finely diced (about 1 cup)
2 tsp. curry powder
1 tsp. salt
3/4 cup unsweetened coconut milk
2 cups water
2 cups vegetable (or chicken) broth
1 cup green lentils
3 tbsp. cilantro leaves, plus more for garnish (parsley works great too)
sour cream, optional
Directions:
1. Heat oil in a medium saucepan over medium heat. Add ginger, garlic, shallot, and carrots and cook, stirring often, until softened, about 7 minutes. Add curry powder and cook, stirring, until fragrant, about 1 minute.
2. Add salt, coconut milk, water, broth, and the lentils, and bring to a boil. Reduce heat, cover, and simmer until lentils and carrots are tender, 8 to 10 minutes. Pour 2 cups soup through a fine sieve into a bowl, reserving solids. Puree strained liquid with remaining soup in a blender until smooth. Reheat after blending. Stir in reserved solids. (I prefer a thicker, chunkier soup, so I used an immersion blender instead of a regular blender.)
3. Reserving some for garnish, stir cilantro into soup, and ladle into bowls. Top with a dollop of sour cream and garnish with more cilantro.