The weather here in Tennessee is getting much cooler and since I've switched from the gym to outdoors for exercise, I needed to be ready for those colder workouts. I love taking long walks/runs around my neighborhood and I'm actually glad it's cooler. Even walks can get tough in the southern heat! I usually walk or run about 6 miles every day and not only is it a great workout, it's a wonderful way to breathe in fresh air, give your mind a break, or catch up on podcasts.
I'm very picky about the leggings I like to wear for workouts. It's a must that they have a pocket for my phone and they have to be comfortable. Six miles takes me about 1 1/2 hours, so comfort is a huge priority. They also have to be affordable. I checked out a few popular brands, but the price tag was a turn off since I was looking to buy several pairs.
Back in February, I purchased a pair of 7/8 leggings from Target and LOVED them! But they only came in two colors and I like to have a variety. I was thrilled when I checked their website and found the same leggings in new colors and patterns! They are the 7/8 High-Wasted Leggings from In Motion, and they check all my boxes for the perfect leggings for workouts. At $40 each, they were less than half of what the high-end brands cost.
They currently come in three patters, with two colors each: marble in purple and black and white, camo in green and dark grey, and speckled in mulberry and grey. I'm wearing the speckled mulberry in medium in the pics.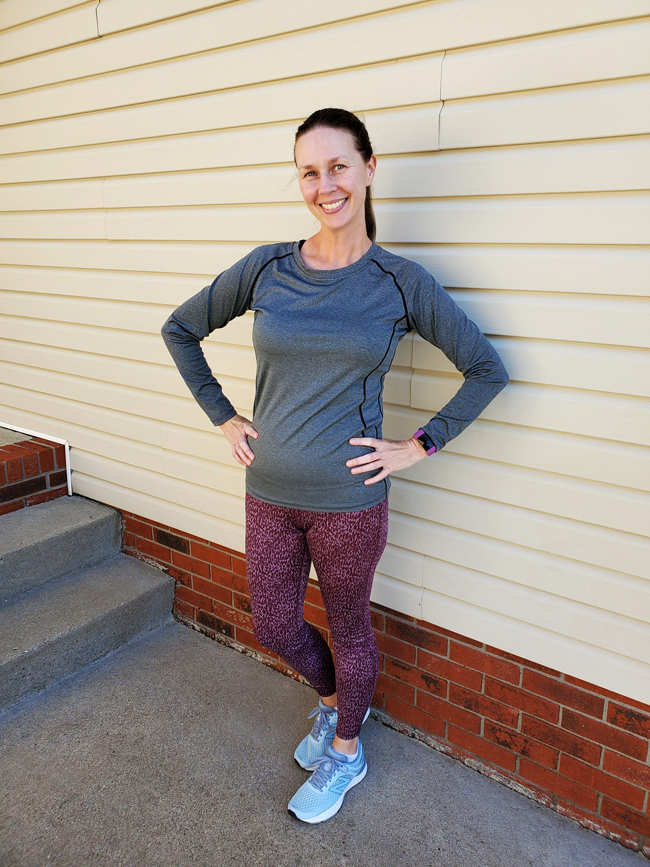 They're compression leggings, so when you first put them on you're going to swear you grabbed the wrong size, but stick with them! I have to do a little shimmy to pull them up, but then they are like buttah. You don't want to size up because they'll fall down when you run. My first pair was a size large and I've since lost weight, but I still wear them for walking. However I can't run in the size large anymore because they start to slide down. So those are my walking leggings. 🙂 The material is thick, so it makes these perfect for a workout on cold days!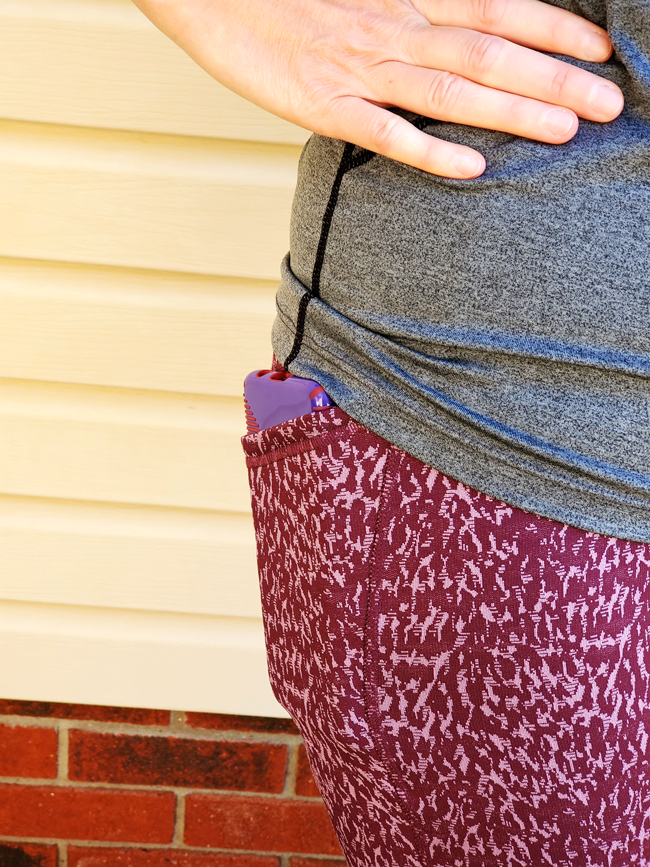 They have two pockets, one on each side, and they're huge! Perfect for a phone, even with a bulky case like mine.
The long sleeve shirt I'm wearing was a great find on Amazon! I needed several since I walk/run every day, so I they also had to be affordable. The shirt is the Neleus Women's 3 Pack Dry Fit Athletic Compression Long Sleeve T-Shirt and are under $40 for 3! The tricky part is that the color combos aren't my favorite, so I ended up with some of the same colors. I purchased the grey, blue, pink pack, the black, grey, red, and the purple, blue, pink. I'm wearing a large in the pic. I didn't buy them for compression, and they don't really do that for me (maybe if I wore the medium), but they are great workout shirts! Super comfortable and provide just enough warmth. I'm a power walker, so I swing my arms back and forth and the sleeves weren't constricting at all.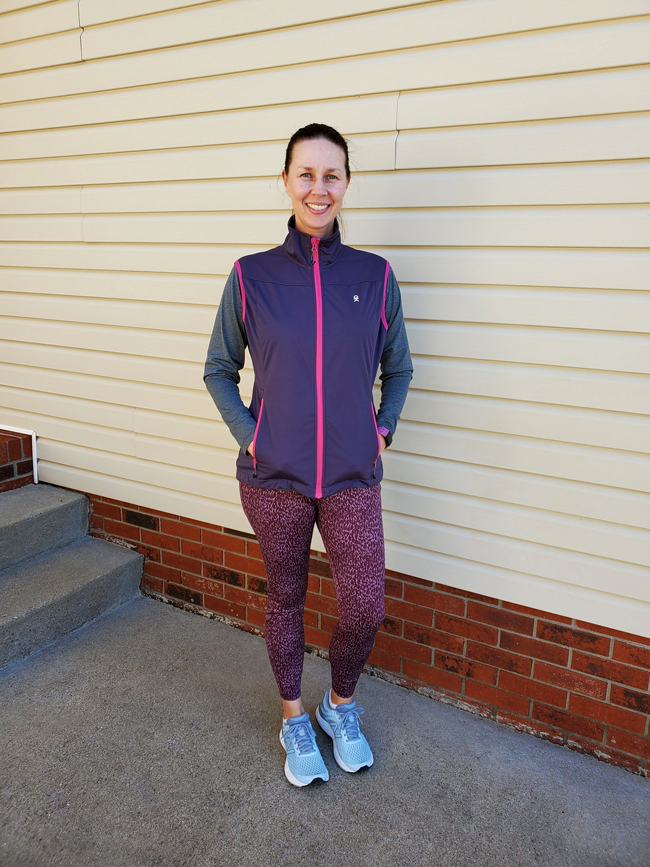 My favorite new cold weather piece is the vest! I didn't want a full jacket because after about 20 minutes of running, I get pretty warm. A vest is perfect! It keeps my core warm, but I don't get too hot and my arms are free to swing back and forth. This is the Little Donkey Andy Women's Lightweight Softshell Vest in purple from Amazon and under $40. I'm wearing a medium in the pic. I love this vest because it's lightweight and has zippered pockets. When it's really cold, I start out my run wearing gloves and once I get hot, I can tuck them away in the vest pockets. It also has pockets on the inside!
Not just for cold weather, but it's also important to have good running shoes. I'm a big fan of New Balance and I scored these New Balance Women's 680 V6 Running Shoe on Amazon for under $60 (which is a steal for New Balance). I'm wearing the Air/Reflection color and I also have a pair in the Peach Soda/Ginger Pink. These shoes changed my running game! Very cushion-y!
My last recommendation, not just for cold weather, is the Women's High Support Convertible Strap Bra by All in Motion at Target. I'm also very picky about sports bras and this one is a favorite. It is a true high-impact support bra and you can change the straps from standard to racer back. That's a pro and a con though because the straps come undone in the washer (very minor complaint). I'd love to see this bra in more colors, too. Right now it only comes in grey, navy, and black.
I'd love to hear your workout gear recommendations in the comments! What clothes work best for you, warm or cold weather?