Chocolate Macarons with Salted Caramel Buttercream
Remember in my Red Velvet Brownies post I mentioned to stay tuned to find out what Shannon and I also baked? Well, folks, we conquered macarons! Yes, those macarons. I put them off for years because of their reputation as being finicky and downright difficult. Guess what? They aren't. After reading through BraveTart's Macaron Mythbuster post, I knew it was time to tackle this confection. Shannon was down for the challenge and we survived! We, of course, chose chocolate for our first recipe and tried two different buttercream fillings. I present you with Chocolate Macarons with Salted Caramel Buttercream and head over to Bake. Frost. Repeat. to see Chocolate Macarons with Raspberry Buttercream!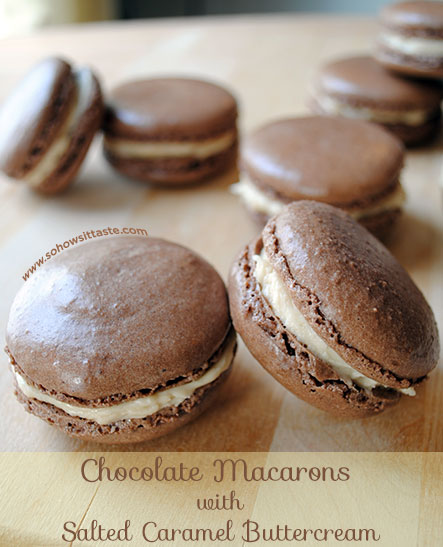 So, how's it taste?
They were phenomenal! This recipe for chocolate macarons is spot on. They are really chocolatey, which is surprising seeing as there's not much cocoa in the mix. I personally couldn't stop eating the shells and had to hold myself back before we had nothing to fill! They were almost brownie-like in flavor. This will definitely be my go-to chocolate macaron recipe. I've used the salted caramel buttercream recipe before on Apple Cider Cupcakes and Chocolate Coconut Cupcakes and it doesn't disappoint. Together with the crunchy, chocolate macaron, the combination is to die for! I had a tough time deciding between this version and the raspberry buttercream version as to which was my favorite. The buttercream recipes are very similar, so don't bother choosing a favorite…make both!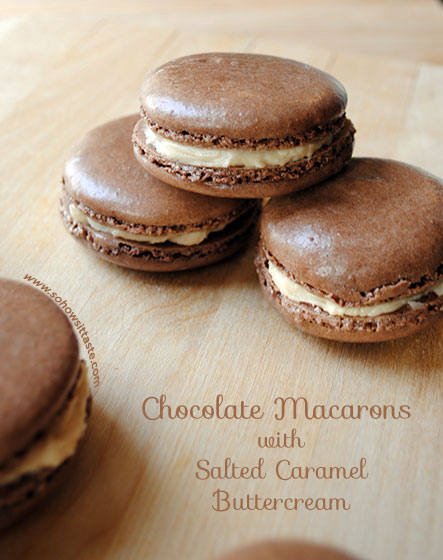 Now I'm sure you're wondering about the process. It's not intimidating at all. Shannon and I were both very nervous about making a big flop, but were pleasantly surprised that they are quite easy after all. We did have a few failures, but it's easy to learn from them and figure out what went wrong. For instance, my oven isn't big enough to have two of my baking sheets side by side, so one went on the middle rack and the other on the bottom. Every time the bottom rack produced macarons with cracks. Too close to the heat! We were careful to measure our ingredients in grams (even though other measurements were provided). For the egg whites, we just used four and didn't bother to be exact on that one…worked just fine! We also didn't let the macarons sit. We piped and baked and they were just fine. We had some batter left over in a piping bag and they sat a bit before baking. Although the ones baked straight away were fine, we did notice a slight improvement when they sat in the piping bag. The last point we discovered is that beating the egg white/sugar mixture until stiff peaks caused our batter to be well, too stiff. That's why you see a "tip" on some of our macarons. The batter should lay down after you pipe it so that it's a smooth surface. Beating the egg white/sugar mixture to just before stiff peaks helps with that.
So don't be afraid to get in the kitchen and experiment! Find out what method works best for you and don't be intimidated by delicious cookies. Even the ugly ones will taste divine!
Check out the Chocolate Macarons with Raspberry Buttercream on Bake.Frost.Repeat.!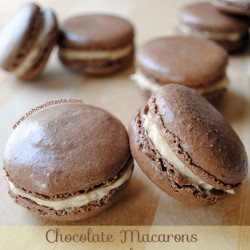 Yield: approximately 24-30, 1 inch cookies
Chocolate Macarons with Salted Caramel Buttercream
Ingredients:
Chocolate Macarons
135g (1/2 cup) egg whites (about 4 eggs)
45g (1/4 cup) granulated sugar
215g (2 cups plus 1/3 cup) powdered sugar
115g (2 cups plus 1/4 cup) almond meal
25g (1/4 cup plus 1 tablespoon)  cocoa powder
Salted Caramel Buttercream
1/4 cup (1/2 stick) unsalted butter, room temperature
1/2 tsp. vanilla
1/4 tsp. salt
2 tbsp. caramel topping
1 1/2 cups powdered sugar
milk, for thinning
Directions:
1. For the macarons, prepare two baking sheets with parchment and set aside. Heat oven to 330F.
2. Place egg whites and sugar in a stand mixer bowl, fitted with the whisk attachment. Beat on medium low speed until egg whites start to form loose translucent bubbles. Increase mixer speed to medium and beat until meringue turns foamy and white, about 2 minutes. Increase mixer to high and beat until meringue holds glossy stiff peaks, about another 2-3 minutes. (We found it worked better when it was between soft peaks and stiff peaks.)
3. Sift powdered sugar, almond meal, and cocoa powder.
4. Add dry ingredients in increments to meringue. Fold dry ingredients into meringue until thoroughly combined. The batter should hold its shape when spooned on itself and start to slowly flatten out after about 15-20 seconds. Transfer batter to pastry bag and let rest for 20 minutes before piping. (Our first batch we piped without resting. It's fine to not wait, but we did find that letting it rest for a bit helped the macarons keep its shape.)
5. Pipe circles of batter onto parchment-lined baking sheets. Take hold of each pan and give it quick hard tap against the counter, turn the pan 90 degrees and give it another quick hard tap. This will deflate any bubbles and help prevent cracked shells. Don't tap them too hard or the batter will spread.
6. Bake for about 15-17 minutes in the center of the oven. If both baking sheets won't fit in your oven side by side, bake one at at time. We found that the macarons baked on the bottom rack would crack compared to those baked on the center rack. Remove from oven and transfer to a cooling rack. Leave shells to cool completely on pan. Shells will cleanly peel away from parchment when ready.
7. For the buttercream, beat the butter, vanilla, salt, and caramel topping in a mixer until blended and fluffy. Gradually add the powdered sugar and mix until smooth. If too thick to pipe, add a splash of milk until the proper consistency is reached. Pipe buttercream on the bottom side of a macaron and top with another macaron. Continue until all macarons are assembled. Store in refrigerator and allow to come to room temperature before serving.