Cake Mix Doctor®'s Yellow Cupcakes with Chocolate Fudge Marshmallow Frosting
You've all heard of The Cake Mix Doctor, right? She's written several cookbooks taking cake mixes and doctoring them into fabulous new creations. Now Anne has come up with her own cake mix. One that tastes like it's made from scratch and doesn't need any doctoring. I had the chance to talk with Anne over the phone about her cake mixes. I was completely geeking out. I mean, I'm talking to The Cake Doctor! Not only did I talk to her, but she offered to personally deliver her cake mixes for me to try. To say I acted like a complete starstruck goober would be an understatement. She was super sweet and I'm so excited to share her recipe for Yellow Cupcakes with Chocolate Fudge Marshmallow Frosting with you and offer the opportunity to try her cake mixes yourself!
So, how's it taste?
She's got an Old-Fashioned Yellow Cake Mix and a Deep Dark Chocolate Cake Mix. It was really hard to choose which one I wanted to try first…until I came across her recipe for Chocolate Fudge Marshmallow Frosting. I'll get to that in a minute. I decided to go with the classic yellow cake and chocolate combo. It's my all-time favorite. Her cake mix is interesting because instead of adding oil, water, and eggs like other cake mixes, you add milk, butter, and eggs. Already I was sold. I've mentioned before how I swear I can taste the oil in some cake mixes. I couldn't wait to try hers with the butter and milk instead. On the back of the box, there's also an option to add pudding to the mix for moist pudding cupcakes. I decided to give that a try, so the recipe below includes the pudding. The cupcake batter was thicker than I expected, but I liked that much better. It made filling the cupcakes really easy. The smell was absolutely intoxicating. You could really smell vanilla, like it was from scratch.
They baked up nice and fluffy. The cupcakes were a bit greasy when I took them out of the pans, but I assume it's due to the butter. Once they cooled, that went away. Next up was the frosting. I was nervous about this because it's cooked in a saucepan and the recipe suggests to use it immediately because it sets up quickly. It's not just a few ingredients you throw in a mixer and combine with butter to call it buttercream. No, this was similar to making fudge…and it was absolutely worth the effort. Everything comes together nicely in a saucepan (although I did have to switch pans because my mixture was starting to scorch, so really watch it while you're letting it come to a boil). Once all the ingredients were in, I got the best arm workout mixing it all together. That just means I could eat more cupcakes, right?! It seriously looked like fudge. It's really thin to begin with and then slowly thickens. I ran out of patience after about 30 minutes and decided to try piping it. As you can see from the picture, it still wasn't stiff enough. It does set fast once it was on the cake though. I'm curious if I had waited longer, would it have been too thick to pipe?
This chocolate fudge marshmallow frosting is the best thing I have ever made…ever. I seriously will never make a frosting as good as this. It tastes like fudge and marshmallow and makes you see rainbows and unicorns and those cute little birds flying around your head. It is to die for. I couldn't wait to bring them into work the next day. The coworkers agreed! I may have finally, finally turned my nose up to tub chocolate frosting (and that's huge coming from me folks!) The combination of this frosting on the classic yellow cake is sweet perfection.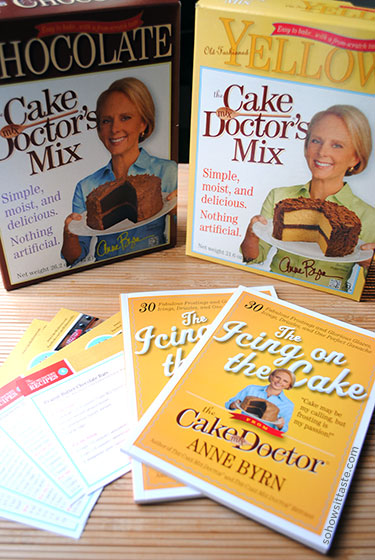 To celebrate her cake mixes, Anne has kindly given me some to share! I've got a box of her Old-Fashioned Yellow Cake Mix, a box of her Deep Dark Chocolate Cake Mix, a copy of her "The Icing on the Cake" cookbook, and a few recipe cards to giveaway! TWO lucky readers will win this Cake Mix Doctor® gift pack!
Mandatory: Leave a comment on this post telling me your favorite way to use a cake mix! (Giveaway open to contiguous U.S. residents only.)
Optional entry: For one additional entry, tweet the following: "Win a Cake Mix Doctor gift pack from @SoHowsItTaste! Enter here: http://bit.ly/11708PZ" and leave a separate comment that you tweeted.
Contest ends on Sunday, June 16, at 8 p.m. central. Please make sure you enter a valid email address as an alternate winner will be chosen if I don't hear from you within 48 hours. Good luck!
Congrats to MiYun, comment #6 and Ray S., comment #12!
You've both won goodies from The Cake Mix Doctor!
Winner chosen using random.org.
Disclaimer: I was given a box each of the Old-Fashioned Yellow Cake Mix and Deep Dark Chocolate Cake Mix. I was not compensated for this post. All opinions are solely my own, as always.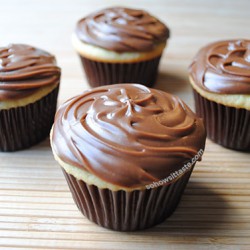 Cake Mix Doctor®'s Yellow Cupcakes with Chocolate Fudge Marshmallow Frosting
Ingredients:
Cupcakes
1 box Cake Mix Doctor's® Old-Fashioned Yellow Cake Mix
1 (3.4 oz.) package instant vanilla pudding mix
1 cup milk, warmed
10 tbsp. unsalted butter, softened
3 large eggs
Frosting
2 cups granulated sugar
1 (5 oz.) can evaporated milk
10 large marshmallows
8 tbsp. (1 stick) butter
1 cup (6 oz.) semisweet chocolate chips
1 tsp. pure vanilla extract
Directions:
1. Preheat oven to 350F. Prepare cupcake batter according to package directions, using the vanilla pudding mix.
2. Bake 15 to 20 minutes, until the cake springs back when lightly pressed in the center or when a toothpick inserted in the center comes out clean. Cool in pan on wire rack for 5 minutes. Remove cupcakes from pan and place on wire racks to cool completely.
3. For the frosting, place the sugar, evaporated milk, and marshmallows in a large saucepan over medium heat and let come to a boil, stirring with a wooden spoon. Reduce the heat and let simmer for 6 minutes, stirring constantly.
4. Remove the pan from heat and stir in the butter, chocolate chips, and vanilla. Continue stirring the frosting until it is thick and smooth and the chocolate and butter have melted, about 5 minutes. Use the frosting immediately, it sets up quickly.